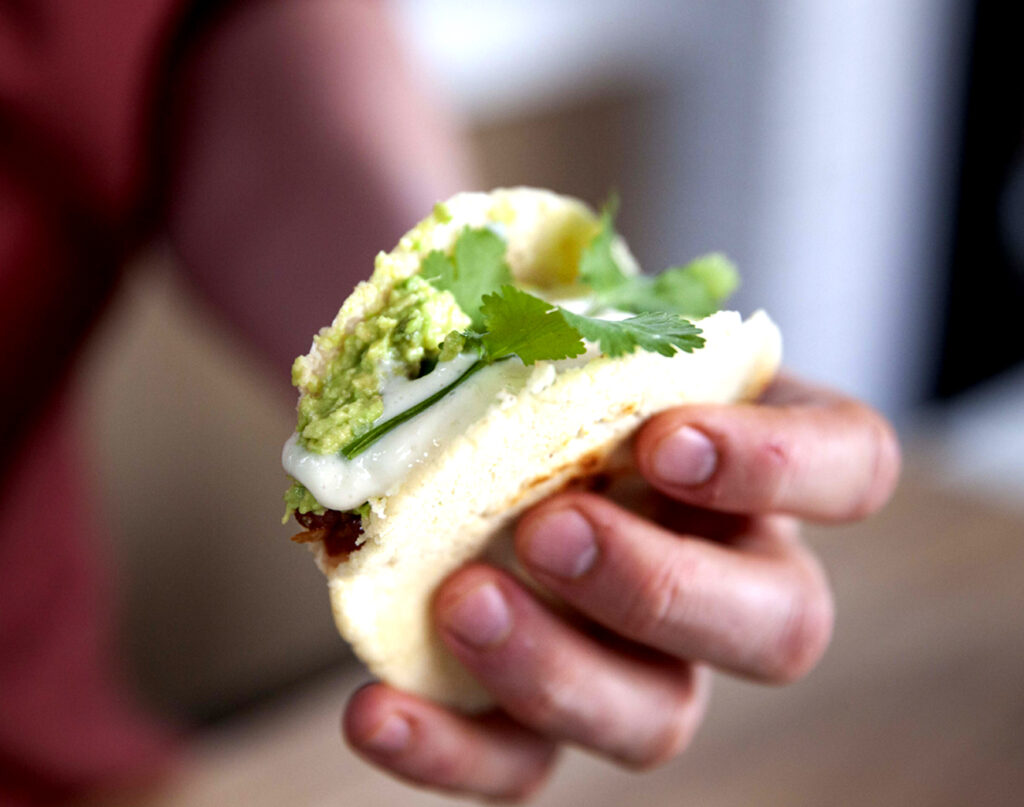 Recipe:
Arepas Stuffed with Fried Beans, Avo & Lemon Cream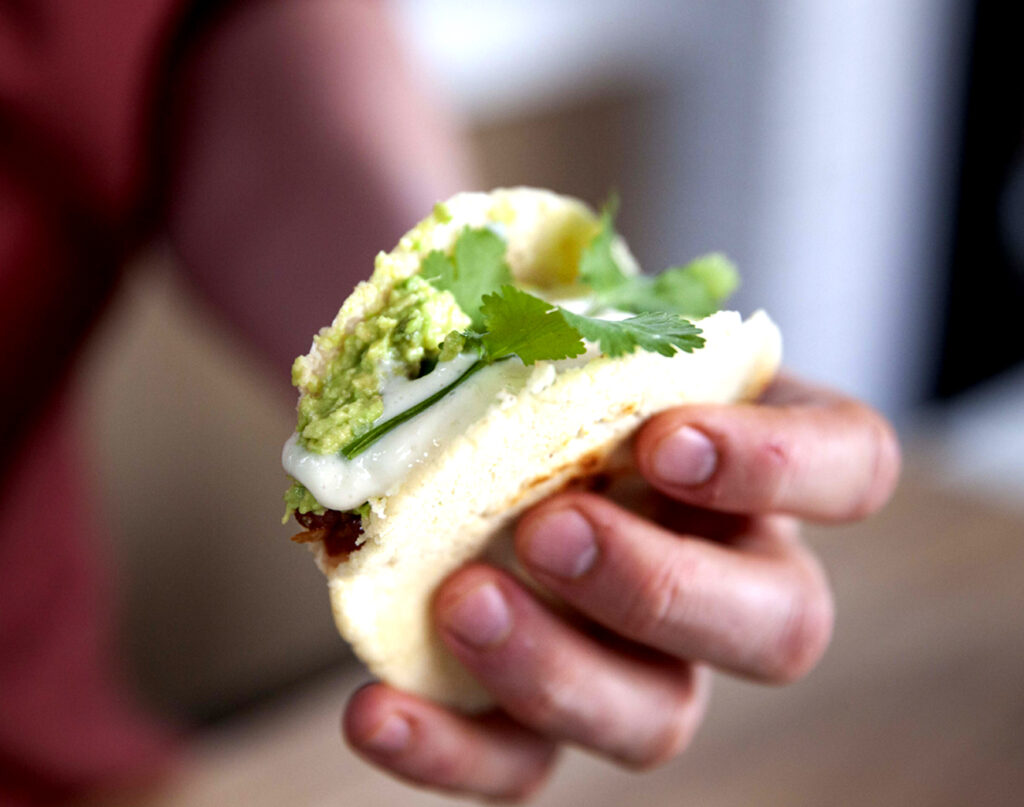 Prep: 20 mins
cook 15 mins
bake 20 mins
You will need:
Arepa dough
300g white cornmeal
525ml water
½ teaspoon salt
Avo mash
2 avocados
20ml extra virgin olive oil
Lemon juice
Salt
Lemon cream sauce
200g silken tofu
45ml lemon juice
½ teaspoon salt
1 teaspoon sugar
Fried beans
2 tablespoons vegetable oil
1 red capsicum, diced
2 cloves garlic, roughly diced
1 onion, diced
1 x 420g can kidney beans
50ml water
Salt & pepper
To serve
Directions:
1

Preheat your oven to 180°C / 350°F.

2

In a bowl, mix the cornmeal, water, salt together to make a very pliable dough. (Remember Playdough? That's the texture you're going for!) A finger poked into the dough should leave a hole, without the dough springing back.

3

This is the tricky part. Take 80 grams of dough from the bulk amount and roll into a ball (should be a bit larger than a golfball) in the palm of your hands. As you roll between your palms, slowly start pressing down with your top hand until you've smushed the ball into a round patty-like shape. Alternatively, you can use two pieces of baking paper and use something flat to press it down. Don't make it too thin as you want to be able to cut it open later and stuff it. Repeat until all the dough has been used.

4

Use a paper towel to spread a touch of oil in your pan (a thin layer of oil just helps conduct heat without making it too oily). Place the arepa onto the pan on medium heat and cook for 7 minutes on each side. Then place them all on a lined baking tray and in the oven for 15-20 minutes. They will take longer than you think to cook all the way through!

5

While they are cooking, mash the avocado with olive oil, a squeeze of lemon and salt. Mix together so that the ingredients have combined but the avocado is still a little chunky.

6

To prepare the lemon cream sauce, place silken tofu into a blender with lemon juice, salt and sugar and blitz to a smooth cream.

7

Place capsicum, garlic and onion in a frying pan on medium heat with some oil and cook for about 10 minutes, or until the onions and garlic have become translucent.

8

Add the kidney beans and 50ml of water. Cook slowly until most of the water has been cooked out. Use a masher to mash up some of the beans. You don't want to mash them all, just enough to thicken the bean mixture. If you feel that the mixture is becoming too dry, add more water. Taste and season with salt and pepper.

9

Cut along the edge of the arepa about halfway, opening it up like a pita. If it is still soft inside, gently scrape out the soft parts. Fill it with the bean mixture, avocado and lemon cream sauce, then garnish with coriander to serve.
Sign up for a week of delicious plant-based recipes
Send me my recipes
Heads up: by signing here you'll get free recipes and updates from VegKit. Privacy policy