A recent article in Triple Pundit spouted off a ream of new products (and a few revamped classics) that are hitting the market this year. It appears most of these products are launching in the US, but they're worth celebrating from afar if you're here in Australia, because if you haven't noticed — food tech developments down under tend to follow a similar pattern to those in the US.
And the US has indeed experienced quite a boom in the plant-based meat sector. The article notes that:
Growth in the segment outpaced all other food categories amid the coronavirus pandemic, with plant-based meat sales up 148 percent in 2020 compared to the year before.
So the industry is responding accordingly: Popular oat milk brand Oatly is making yoghurt, ice cream and cream cheese — and prepring to go public. Veteran nondairy milk brand So Delicious is making ALL of the cheeses. Impossible Foods (whose famous burger became Burger King's Impossible Whopper) has ramped up production such that their wholesale price point inches ever closer to that of traditional beef. And in fact, it seems every fast food chain in the US is teaming up with a major plant-based meat company to get in on the action!
America's menu isn't the only one evolving … The article notes that a Dutch company who's made plant-based burgers for 30 years has expanded into the 'seafood' space. The UK vegan meat brand VBites is launching across the Middle East! And a major Singaporean frozen food producer has announced its own plant-based brand with products ranging from gyoza to nuggets to spaghetti Bolognese 😛
If you're overwhelmed by the avalanche of possibilities coming our way — you're not alone! But take a deep breath, think about your favourite plant-based burger, and perhaps offer up a little 'thank you' for all the vegetarians and vegans who came before us — those resilient souls who lived on tofu and soy milk for decades so we could enjoy such spoils today
Pictured in header: plant-based shrimp from New Wave Foods.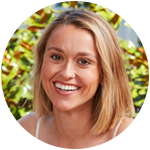 Maggie
Maggie's passion for fresh, local produce began in the 90s when she first harvested the oranges in her backyard for a glass of fresh-squeezed Florida orange juice — though her Dad may remember the details of labour a little differently. Now she adds berries to her chocolate and sneaks pumpkin into brownies so she can confidently and incorrectly refer to them as health foods.