Halloween is not an American holiday. I won't bore you with a lengthy origin story — only partly because I'm excited to get to the rest of the festivities (did someone say candy?!) — but it began as the Celtic holiday, Samhain, which was introduced to America via an influx of Irish immigrants escaping the potato famine. While its meaning is deeply rooted in ghosts and otherworldly spirits, America helped to shape it into a more festive affair with costumes, food-focused celebrations, and family-friendly fun.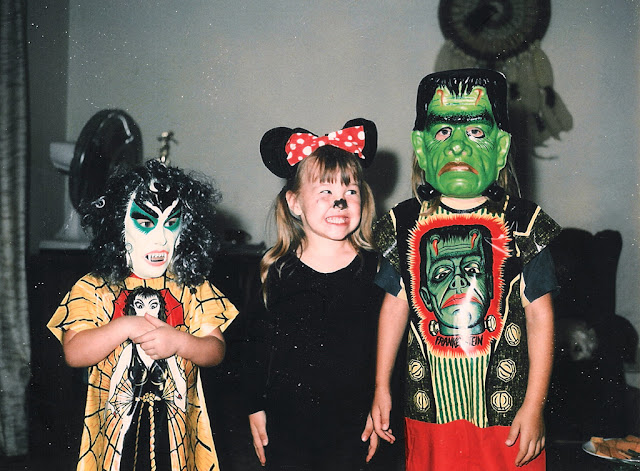 Halloween in Australia still largely focuses on all things dark in nature. Small scary clowns, cackling witches, ghosts and vampires are all rife on suburban streets come October. But as the holiday gathers momentum in Oz, costumes are becoming gradually more inspired by fantasy and pop culture. Anything goes on October 31st. It's a great tradition to embrace, allowing you to flex your creative muscle in the costume department. Dress as a figure you admire, your favourite food, or your scariest nightmares. Some of the costume ideas that I've not quite got around to making, are…
• An overripe avocado: Is there anything more alarming?!
• Single-use plastic: For an element of high-brow horror. Bonus points for upcycling your single-use waste.
• A melting Wicked Witch of the West: As a stark reminder of the climate crisis.
• Coriander: If you're looking to cause a fright to roughly 15% of the population.
• A black cat: A social commentary on the detrimental impact of superstition when it comes to black cat adoption.
• Potato: In any of its wondrous forms.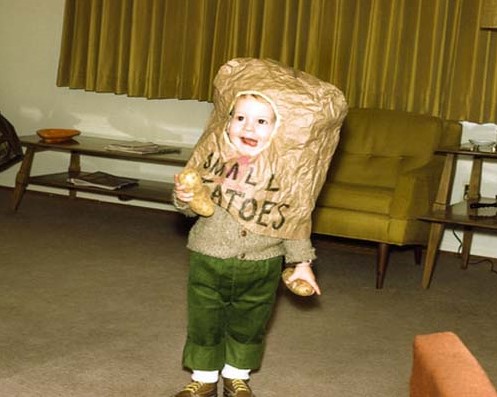 @Oldtasty
Feel free to use any of the above if you're inspired. Mi costume idea, es su costume idea. That's what the Spanish are always saying, right…?!
Trick or treat
There are few things more adorable than gentle knocks at your door on Halloween night, followed by the painfully shy and awkward chant of 'trick or treat'. In all my Halloweens on this planet, I'm yet to meet a trick-or-treater who actually has a trick up their sleeve — which is just fine by me. In the current climate, we can't be affording to use a precious commodity like toilet paper for anything but…well, y'know. And hurling eggs at houses…? Don't even get me started. In the off chance you do happen upon a trickster, make sure your treat offerings are up to scratch. I'd hate for you to fall prey to any acts of mischief.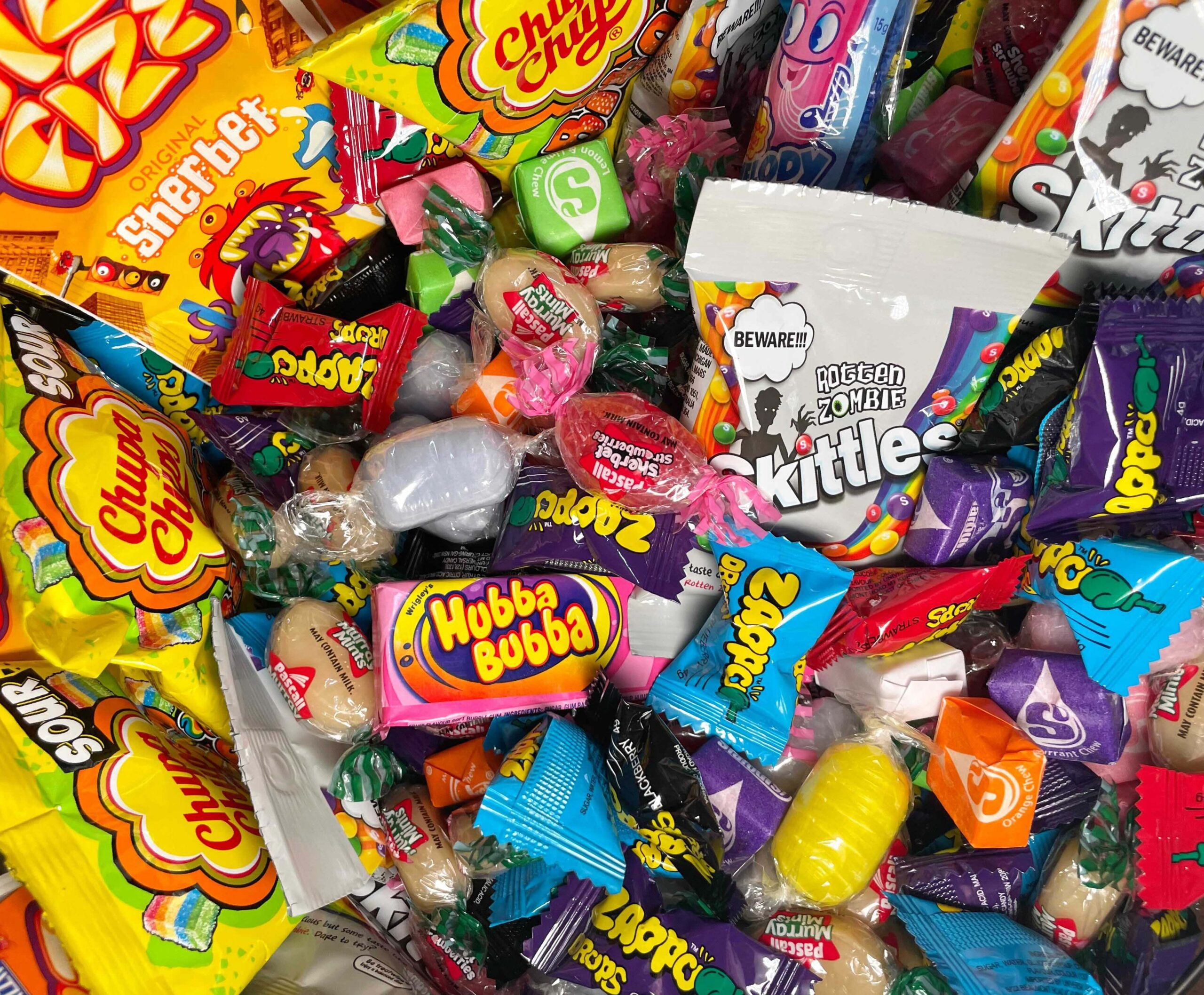 While single-use plastics and paper wrap aren't ideal, unfortunately they're a necessary evil for treat giving. The good news however, is that there are loads of treats available that are plenty sweet to kids and to animals! (Y'know, by kindly excluding animals from candy-making process 😉 )
I want candy
Supermarkets and larger chain stores carry a range of animal-free treats, proving that any blood and gore the season promotes need not extend to animals. This is by no means the most comprehensive list, but it is a great starting point. Be sure to check out your local milk bars too, as they often have some exciting finds.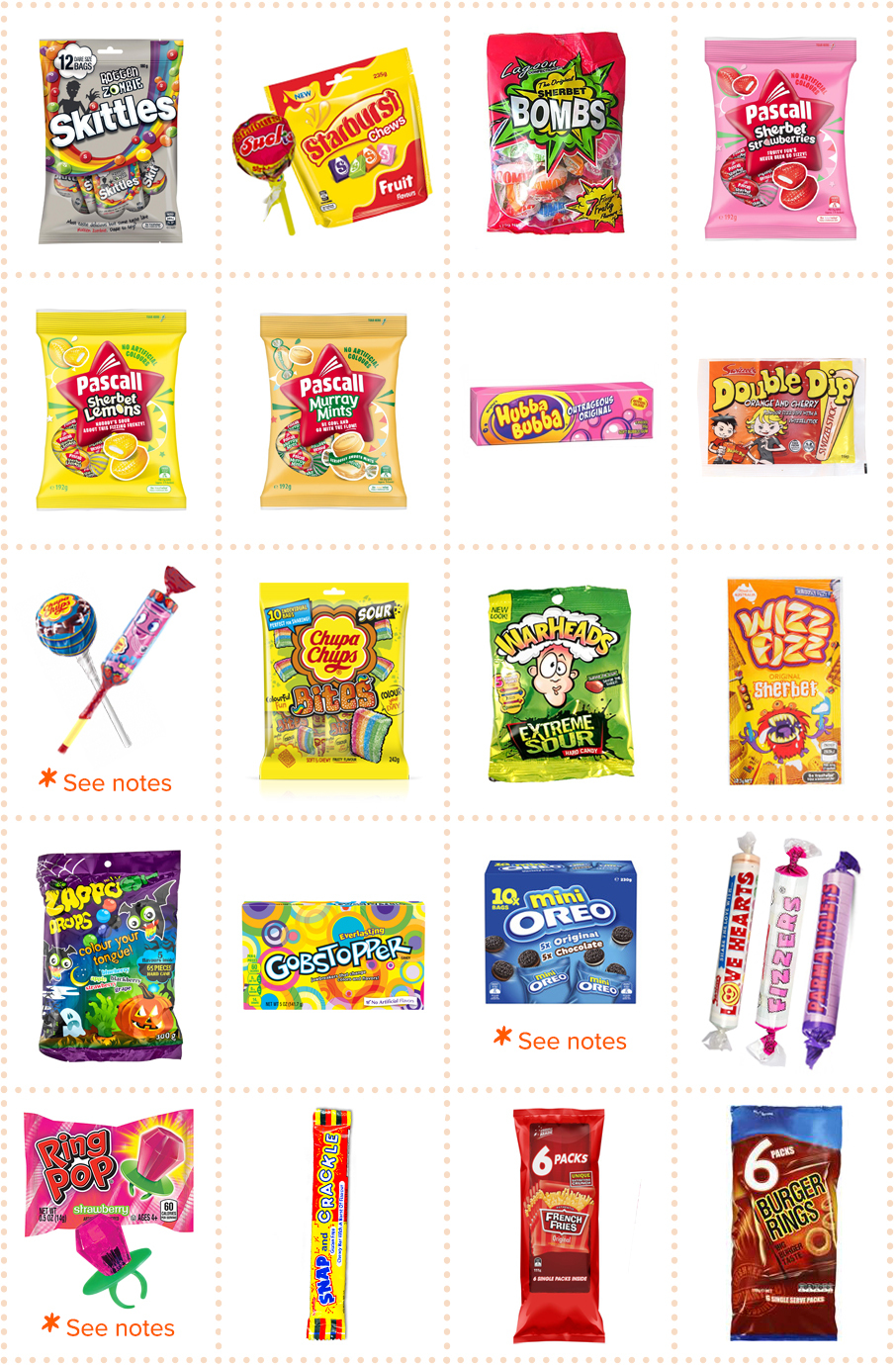 A special mention must go out to Sour Patch Kids. While multipacks don't appear to be on shelves this year, there's no reason you can't sit and enjoy a pack all to yourself. In fact, in that spirit, why not check out this handy guide to animal-friendly sweets in Australia? There's plenty to keep your blood sugar high and your dental cavities…err…cavernous.
Mad Monster Party
October is the season for numerous parties and potlucks, giving you the ultimate reason to go aaallll out in the kitchen. Share dishes are always great, but when there is a theme involved, it can take your festivities to the next level. If you don't have time to allow your mind to wander the murderous pits of doom or the fiery depths of hell for inspiration, that's okay — I'm here to help. See…I'm not just a regular witch, I'm a cool witch!
Try these simple but effective dishes and share plates to impress even the most discerning of ghouls…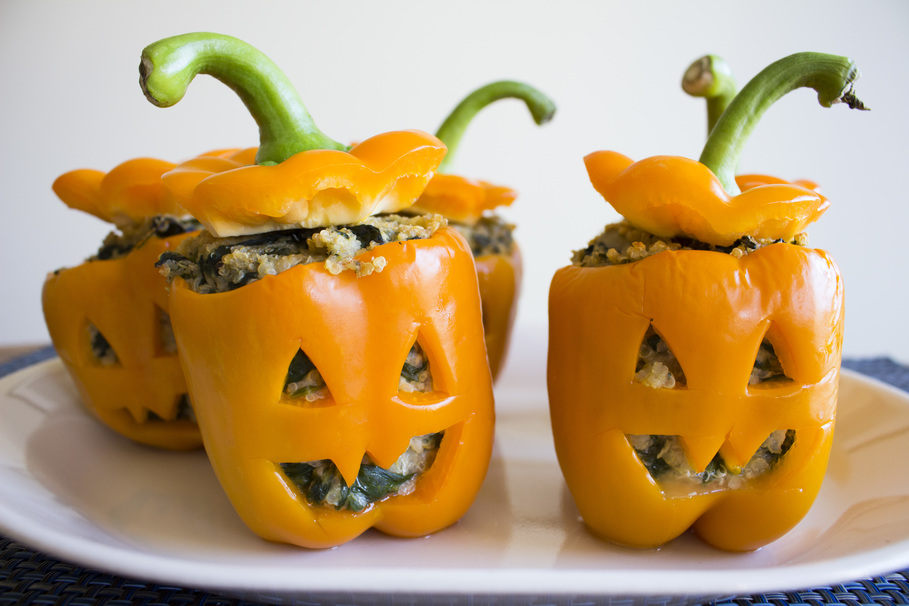 • Pizza Bones: Using a cookie cutter, stamp out as many bones as you can from sheets of puff pastry. Sandwich your pizza fillings of choice between two of the bones, and press the edges with a fork to seal, and that's it — Fester's your uncle! Don't forget to add a side of Napoli sauce blood for dipping.
• Jack O' Lantern Stuffed Peppers: Grab your smallest knives and get a-carvin'! I recommend this delicious stuffed pepper recipe. With the simple addition of spooky faces, you've turned this Mexican-style treat into a festive delight!
• Frankenguac: It's just like your regular guac, but with a face. Fill a bowl and decorate with olives for facial features and blue corn tortilla chips for the hair. This one isn't rocket science, but it is avocado. No need to reinvent the wheel with every dish!
• Munster Wraps: Decorated and filled spinach wraps to live out all your Herman Munster dreams…? That's a big yes from me!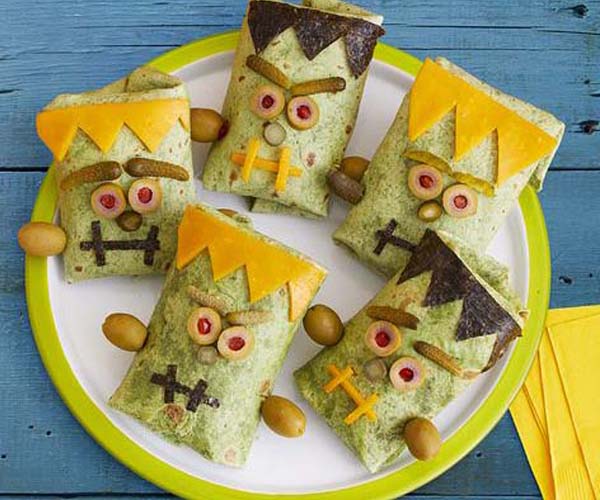 • Monster Mash Shepherd's Pie: A rich and indulgent lentil shepherd's pie is always a hit, but it's even better when the mash is piped into potato ghosts with peppercorn eyes. Sweet potato can also make a welcome and colourful addition to the ghost department.

• Dips, dips, and more dips: Since you've already bought peppers and you're no doubt enjoying your creative carving, keep a few more fresh pepper lanterns aside to use for some no-waste dip bowls. Black bean dip, hummus, or this winning Hot Cheddar and Jalapeno Dip, with a side of bat-shaped tortillas, liven up any spread. The cheddar dip can also be used to fill halved jalapenos, for the most adorable Jalapeno Popper Mummies.
• Sweet Voodoo Doll Pastries: It's time to bring out your gingerbread cookie cutters, things are about to get dark. As with the Pizza Bones, all you need to do is sandwich your desired sweet fillings between two of your cut-out dolls and seal the edges. I recommend rasplum jam (the delicious jam used in doughnut fillings), stewed apples with cinnamon, or a dairy-free choc hazelnut spread. Once they're golden brown, skewer them as many times as you like. There are no hard and fast rules here, so let spite be your guide.

• Vampire Sandwich Cookies: This quick and easy Chocolate Chip Shortbread Cookie recipe is only a small alteration away from a blood-sucking treat. Whip up a simple Vanilla Buttercream and add in some red food dye. Fill two semi-circle cookies with the buttercream and add some marshmallow teeth to your rounded edges. You can either cut some marshmallow fangs or add in some slivered almond points for some added crunch.

• Witch's Fingers: The shortbread classics never let me down. A minute before your finger-shaped cookies are due out of the oven, give them a light brush with Nuttelex and a dusting of Oreo crumbs to impart a slightly weathered look to your fingers. Then apply a squirt of chocolate fudge glue to one end of each and attach your slivered almond nail. Hershey's Chocolate topping is highly recommended for this but feel free switch up with raspberry sauce as well, for an elegant mix of 'blood and dirt'.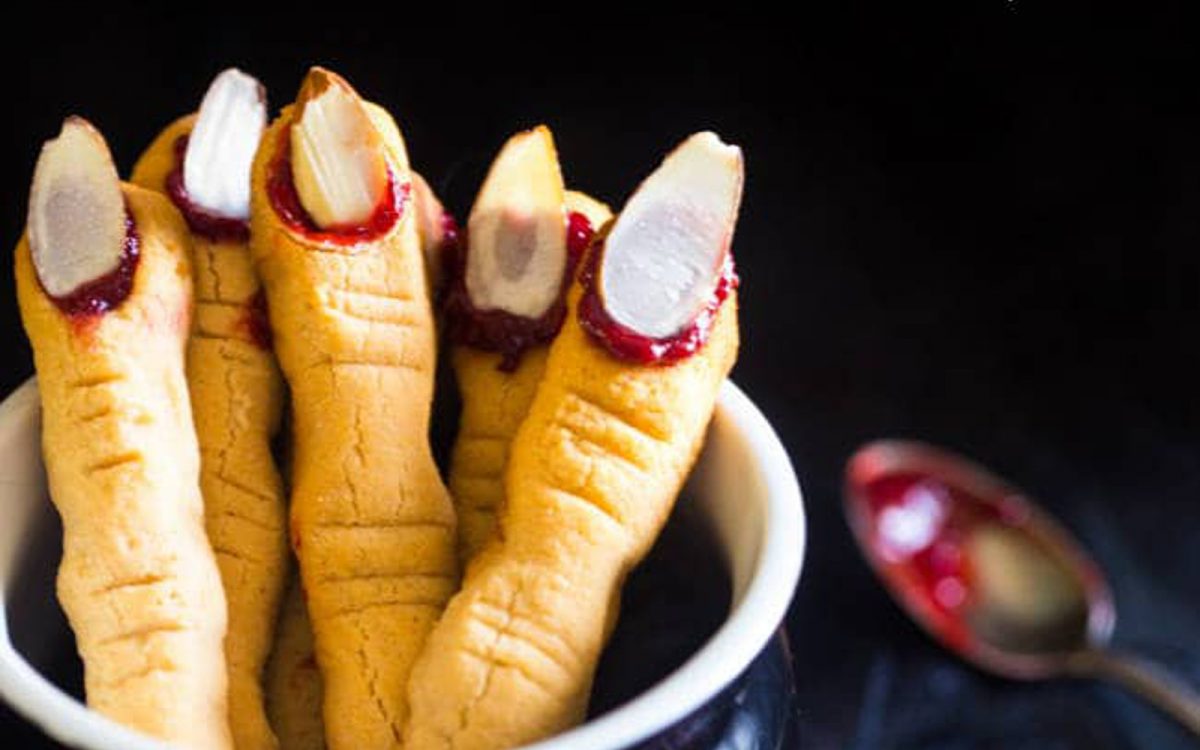 These suggestions really are just a drop in the coffin when it comes to Halloween cooks and bakes. There are infinite possibilities with themed foods, which is where the trusty ol' world wide web comes in handy. Let Google image search be your guide, if you dare, and see what fresh, tasty hell it brings…in the best way possible, of course!
Season of the witch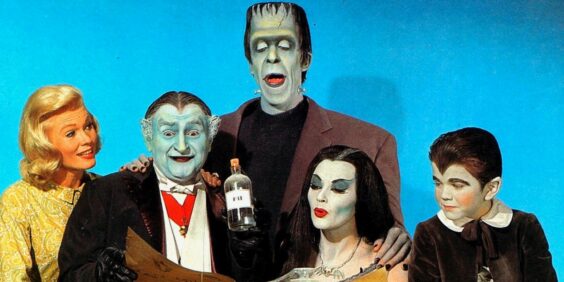 We Got This Covered
Now that you've dressed up, partied, eaten, and have more sweets than you could poke a sharp instrument at, rest up and enjoy some classic holiday viewing. You don't need to be a horror fiend to enjoy this vital part of Halloween celebrations. My shortlist recommendations are all family-friendly, so why not add some of these classics into the mix…
• The Addams Family & Addams Family Values: Christina Ricci was born to play the magnificently macabre Wednesday Addams.
• Mad Monster Party: This 1967 stop-motion classic is visually stunning, with a soundtrack so beautiful you'll be adding it to your year-round playlist.
• It's the Great Pumpkin, Charlie Brown: Peanuts holiday specials never fail to hit me in my hollow, heartless chest.
• What we do in the Shadows: Just three Kiwi vampire housemates, living their best eternal lives.
• Beetlejuice: For so many reasons, but especially 80's Winona Ryder.
• The Witches of Eastwick: Never pass up an opportunity to combine your Halloween celebrations with Cher!
• The Rocky Horror Picture Show: With a cast of colourful characters and plenty of sing-a-long opportunities, this is an October must!
• The Munsters: Just your average Transylvanian-American family of loveable monsters, doing their best to keep up with the Joneses.
• The Twilight Saga: Yep, all five of them! With glittering vampires, jealous teenage werewolves, and high school hormones running wild, you're in for the ultimate supernatural teen experience.
• The Craft: High school witches — need I say more?
Let's go get spooky
Now that you're no doubt feeling excited, inspired, and empowered to hit the streets, my job here is done.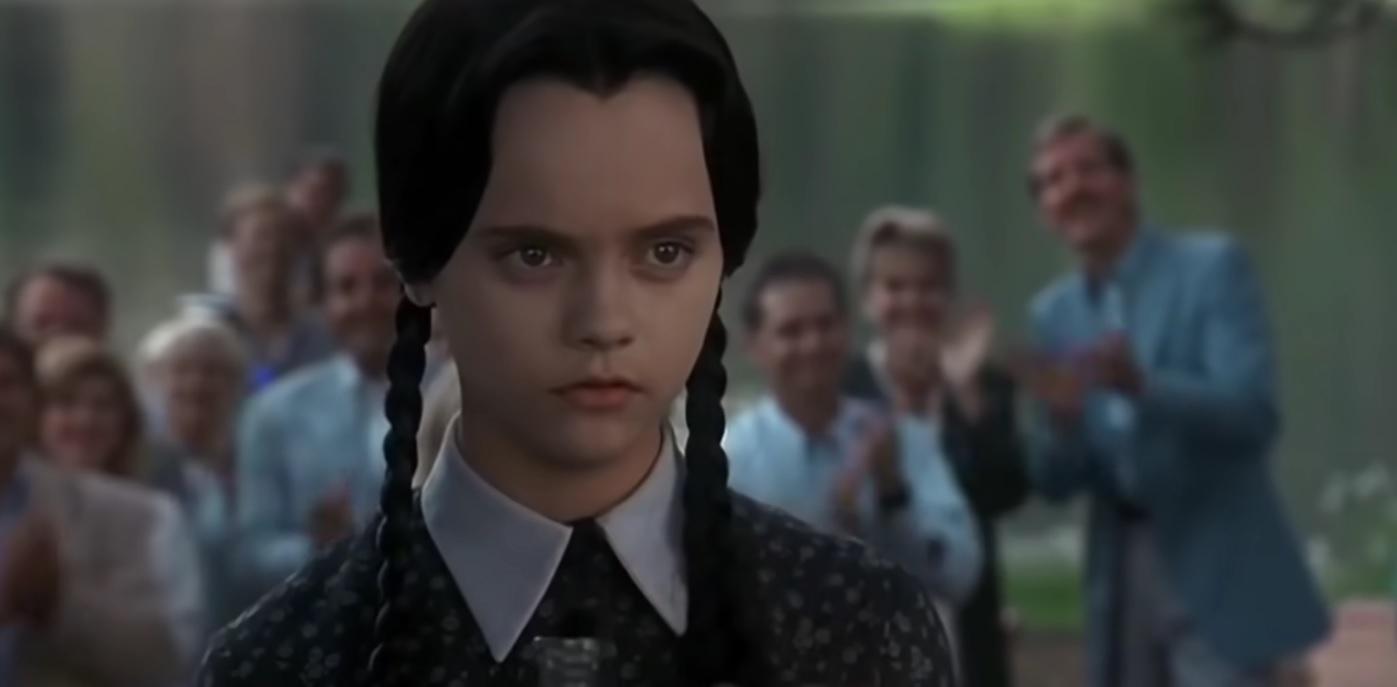 I will leave you with a small piece of advice though. In the off chance your celebrations don't go to plan and you find yourself stuck at home, quite literally all dressed up and with nowhere to go — don't fret. Your friends may have abandoned you, but take note from Wednesday Addams — "Popularity is fleeting. I prefer to set my sights on something challenging — the establishment."
Happy Halloween, monsters!