Full disclosure: Thailand holds a special place in my heart because I lived and worked there for a year in my early twenties. So the nation of smiles does tend to catch my eye in the news. But the main reason I find this article particularly thrilling is because it reminds me how global the shift toward plant-based eating is!
The article notes that, while Thai people are increasingly keen to swap out meat to help curb the effects of climate change, there was a pressing need for Thai-made vegan products:
…While plant-based meat is a more sustainable option, many imported alternative protein brands remain far too expensive for the average Thai consumer, making low-carbon food options inaccessible to the domestic mass market.
Having identified this gap in the market, Let's Plant Meat made a burger patty they can sell for about 2.30 USD per patty — and that's a price more people can get on board with.
With their vegan burgers already stocked at major supermarkets across Thailand, the company has lots of other 'meats' in the pipeline as well. It's incredibly heartening to see so many countries developing new versions of these products because it means enticing plant-based food is becoming more and more accessible for everyone 😀
I'll be keen to see what the Thai consumers think of these burger patties – I may just have to ask one of my old pals to investigate and report back!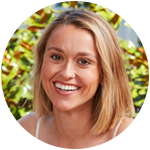 Maggie
Maggie's passion for fresh, local produce began in the 90s when she first harvested the oranges in her backyard for a glass of fresh-squeezed Florida orange juice — though her Dad may remember the details of labour a little differently. Now she adds berries to her chocolate and sneaks pumpkin into brownies so she can confidently and incorrectly refer to them as health foods.