When it comes to putting together a well-balanced meal-plan, there's a healthy eating rule of thumb to remember: enjoy a wide variety of foods including fruit, veggies, legumes, wholegrains, nuts, and seeds. You can learn more about cooking and eating the plant-powered way here
And now — on to the food! Here's the fourth and final post in our series offering you a week's worth of plant-based meal ideas to cover you from breakfast to dessert, and everything in between. (If you're pressed for time or feeling less than ambitious, jump to the 'quick n' easy' meal plan instead 😉 No judgment!)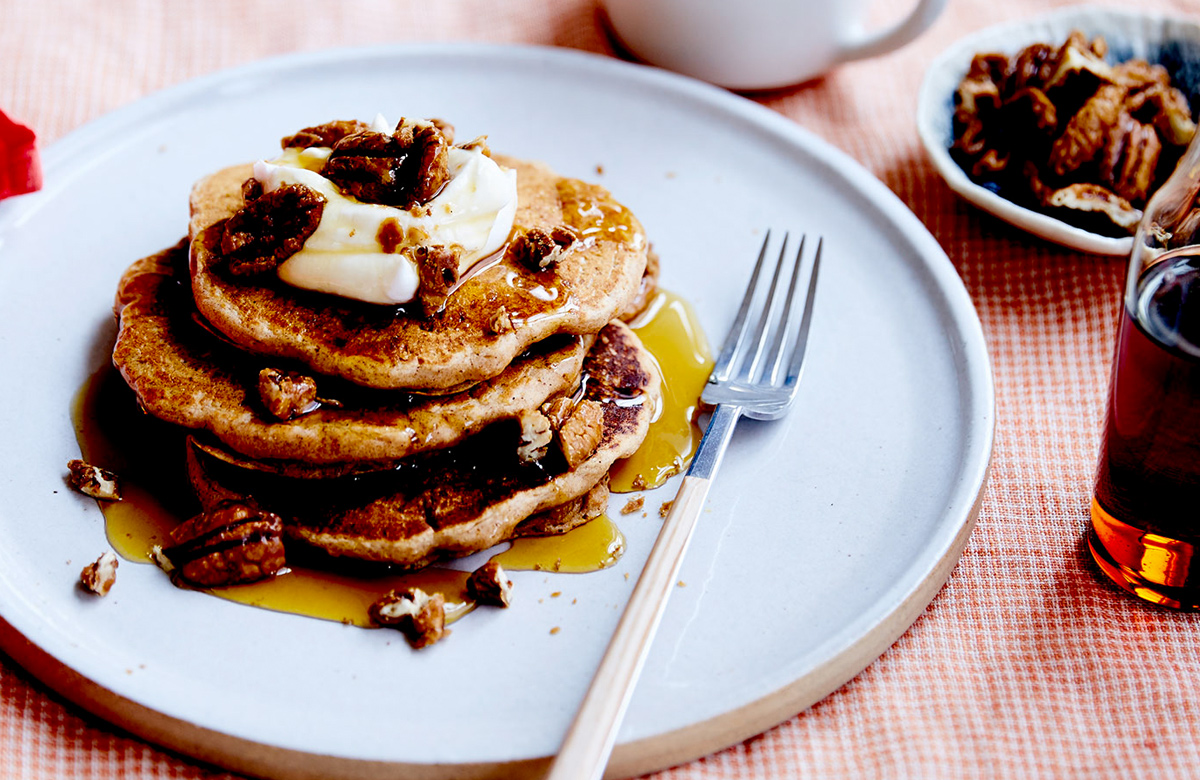 Breakfast
I've never been to Canada or the North-east U.S., but I imagine (if they were edible) they would taste something like these fluffy and warmly spiced pumpkin pancakes with maple pecans — Fall at its flavoursome finest (a.k.a. Autumn to you and me in the Antipodes).
(P.S. For more handy tips check out this egg-free baking guide!)
For all of the protein — and none of the cholesterol — try this savoury tofu scramble. Simple to customise according to your tastes — think curry aromatics, spicy salsa or Italian-inspired pesto — you could find a dozen ways to make this tofu scramble your own!
If you take all the goodness of porridge — and pop it into the oven — you'll end up with something like this delightful blueberry & coconut oat bake. Go ahead and make it up the night before, if you like, to make the morning blissfully stress-free.
You may also like to try:
* Golden croissants — yes, they're real, and yes, completely dairy-free!
* Three energizing breakfast smoothies: chocolate, tropical or green, you decide
* Protein- and fibre-rich roasted sweet potato and kale breakfast hash, deliciously aromatic with curry spices.
And, when all else fails to inspire, there's always good old peanut butter and jam on toast (or hummus and sliced tomato if you're feeling savoury) ❤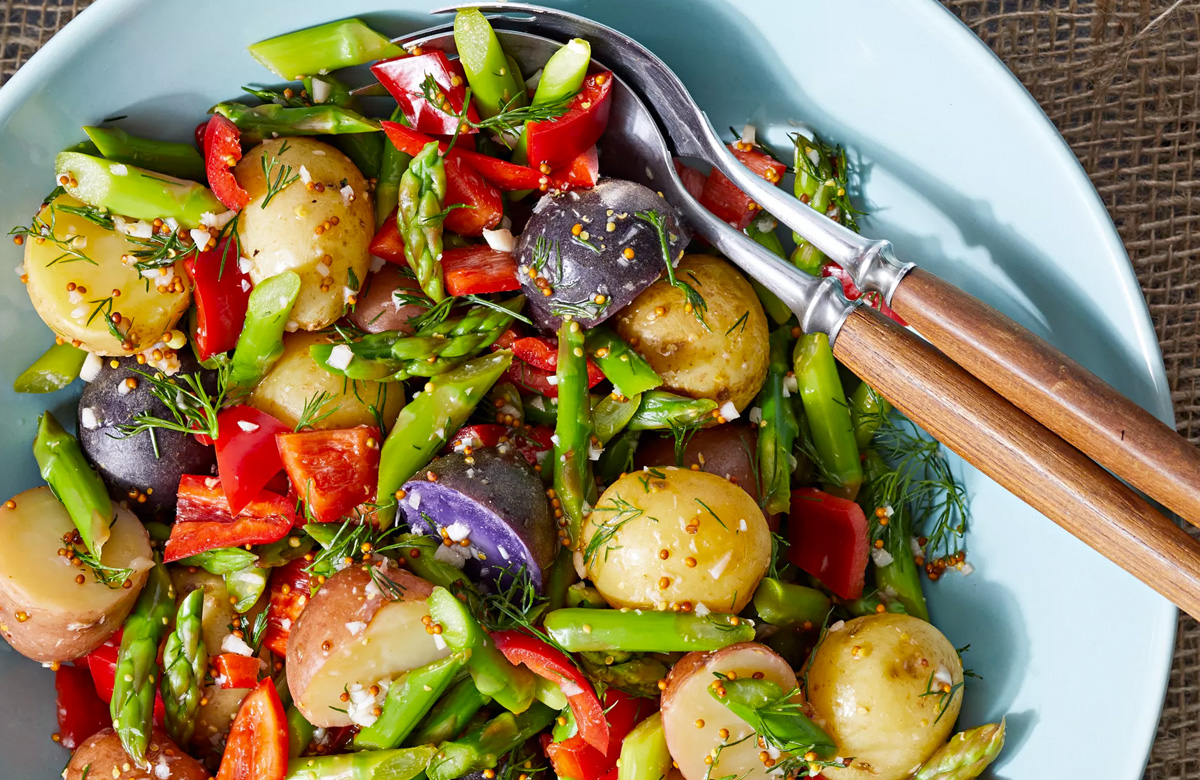 Lunch
Fresh dill and horseradish are, I'll admit, no strangers to culinary controversy — personally, I adore their bright and sharp flavours, combined perfectly here in this new potato salad with horseradish vinaigrette. If you prefer a more classic, creamy potato salad you might like this one — Southern potato salad — from Simple Veganista (she's got about 6 other versions too, so there's sure to be one that floats your boat!).
This Turkish herbed pomegranate kisir salad is super simple and super delicious: all you have to do is pour boiling water over some bulgur wheat, chop up a few vegetables and herbs, mix, season and enjoy!
Gluten-free and ready in just 30 minutes, this roasted broccoli pasta salad with hemp pesto is flavour packed to the max (you might like to pop some plant-based feta on top for extra oomph).
More lunch options:
* 10-minute ginger carrot and kale salad
* Cauliflower with shawarma spices and lemony tahini dressing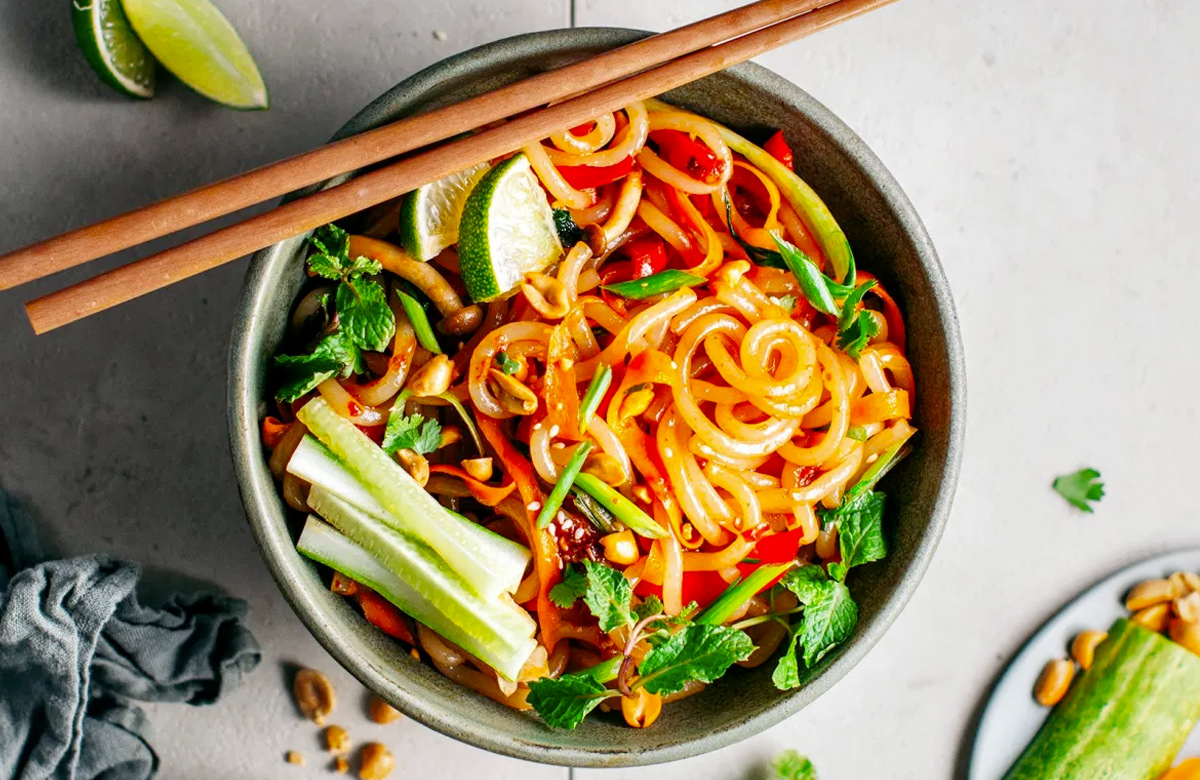 Dinner
Satay udon noodle stir fry — in less than 30 minutes you can have a bowl of these saucy, spicy noodles on the table (or the couch).
In this spiced cauliflower and tofu in green masala sauce the cauliflower and tofu are tossed in spices before being baked, then added to the simmering sauce — this imparts a delicious smoky flavour and keeps these ingredients delightfully crisp. A taste and texture sensation!
Spicy garlic pasta with roasted chickpeas is a great big bowl of comfort — quick, simple, and dressed with a zesty garlic sauce — this makes a fantastic, quick and protein-rich midweek meal.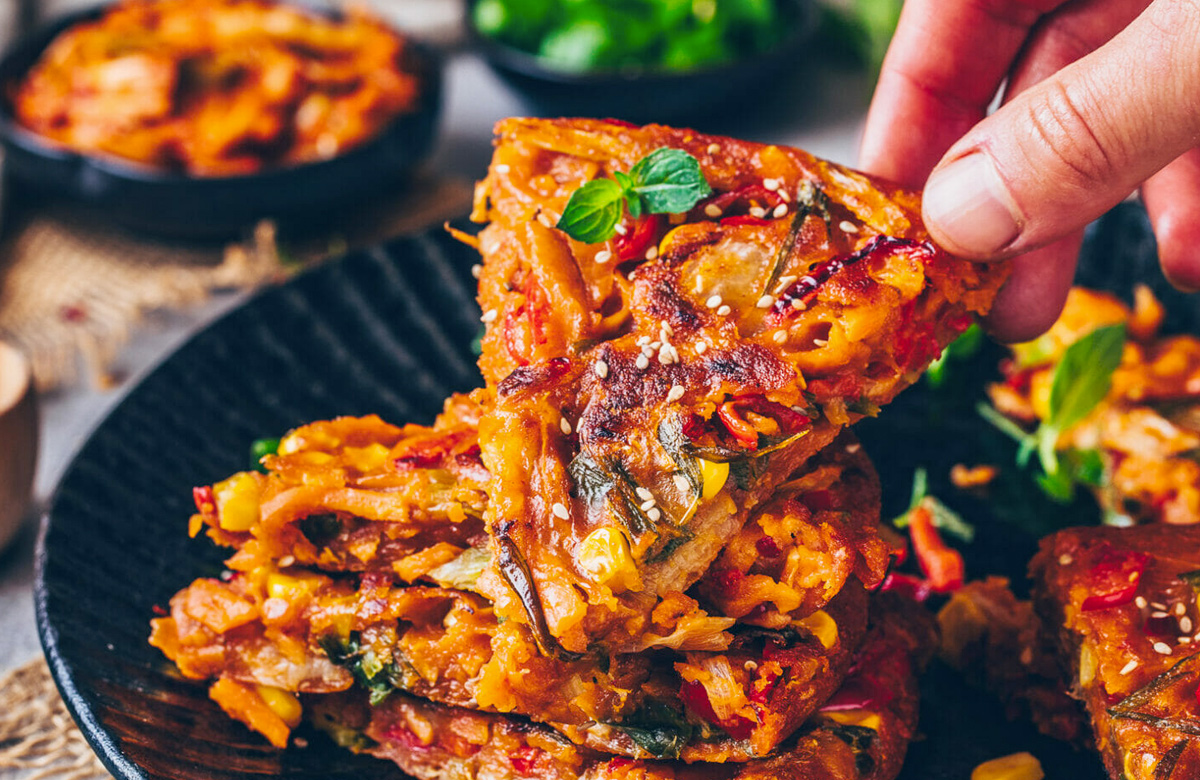 Bianca Zapatka
It only takes a few minutes to whip up these crunchy kimchi pancakes — just be sure to check the label to make sure there's no fish sauce or shrimp paste in the kimchi (or make your own!)
Or try your hand at:
* Creamy, dreamy mushroom matar masala curry — just 20 minutes active cooking time before letting everything simmer into spicy perfection.
* This zesty lemongrass tofu stir fry is packed with fresh vegetables and protein-packed tofu and makes for a hearty and super-healthy dinner. Use whatever vegetables are in season to keep this budget friendly!
* Turkish borek pie with mushrooms and spinach — flaky golden pastry perfection (When in season, I'll use fresh, blanched spinach in place of the frozen — use whatever is easiest for you!)
* Pasta e fagioli — Italy's famous (and delicious) perfectly balanced bean and pasta stew.
* Say hello to crispy on the outside, tender on the inside, sesame-crusted hoisin tofu bowls.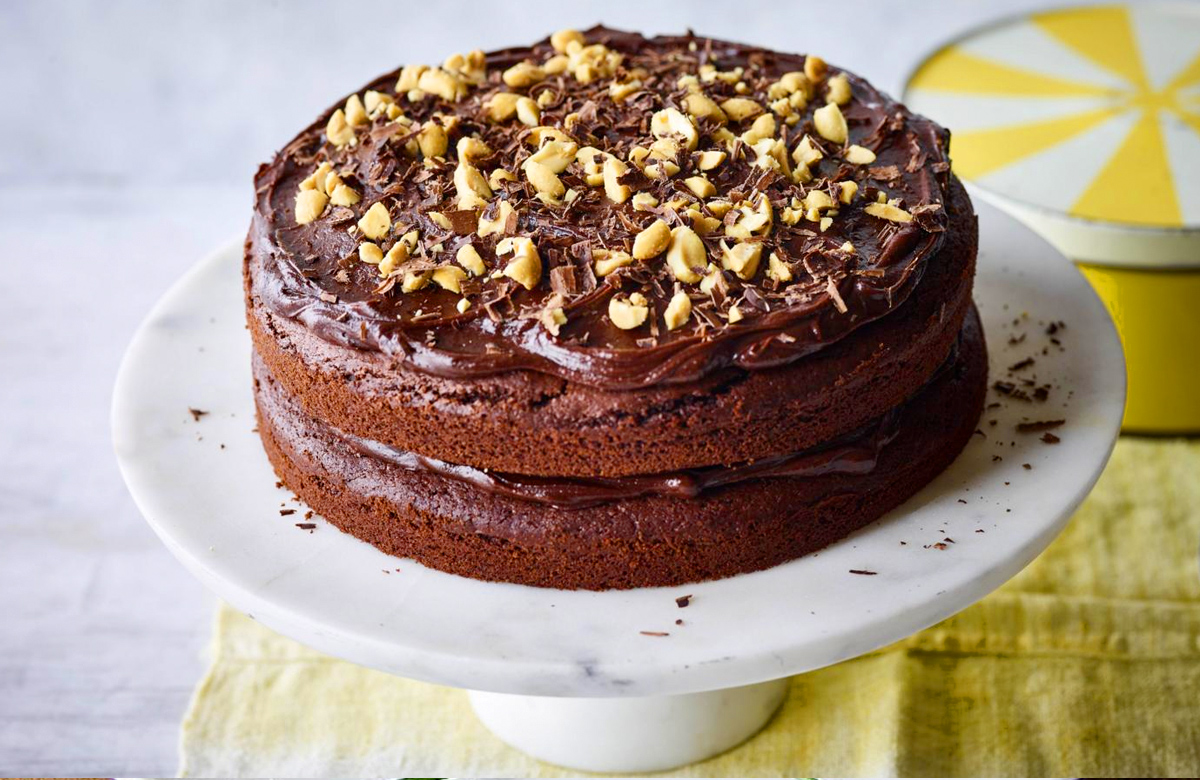 Snacks and dessert
Peanut butter and chocolate cake — all the joy of Reese's Pieces, in cake form!
Enjoy a taste of the tropics with these mango and coconut tapioca pearl parfaits — the crushed chocolate shortbread is optional, but delicious.
Summer in a pastry shell — these mango peach pies are golden, buttery and utterly delightful.
You may also like:
A basic creamy chia seed pudding recipe — use as a base and customise your heart out with the toppings!
Spicy seaweed and crispy tofu rolls — a traditional and protein-packed Vietnamese dish, aromatic with lemongrass and chilli.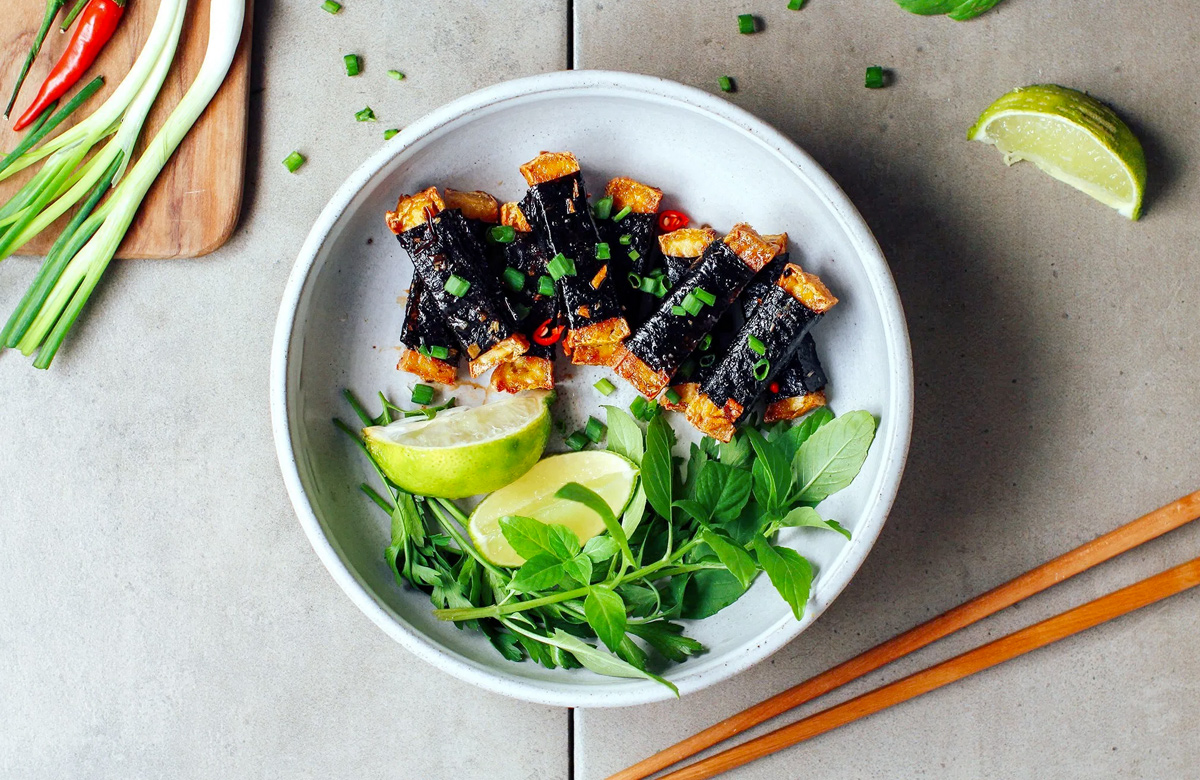 Full of Plants
Corn fritters with fresh tomato salsa are a crispy, crunchy and savoury/sweet treat perfect for a light meal, lunch, dinner — or midnight snack!
Pumpkin gingerbread muffins — ideal for Hallowe'en, Christmas, or any time you like 🙂
Hungry for more? Click here to find weeks one, two and three in this series!
If you're just after something quick and simple that requires minimal energy output on your end — we've also gathered a handy list of easy plant-based meals you can throw together in 15 minutes or less, featuring plenty of meals you're probably already familiar with
We'd love to hear about the plant-powered creations you've been cooking up and enjoying recently. Please let us know below! 🙂