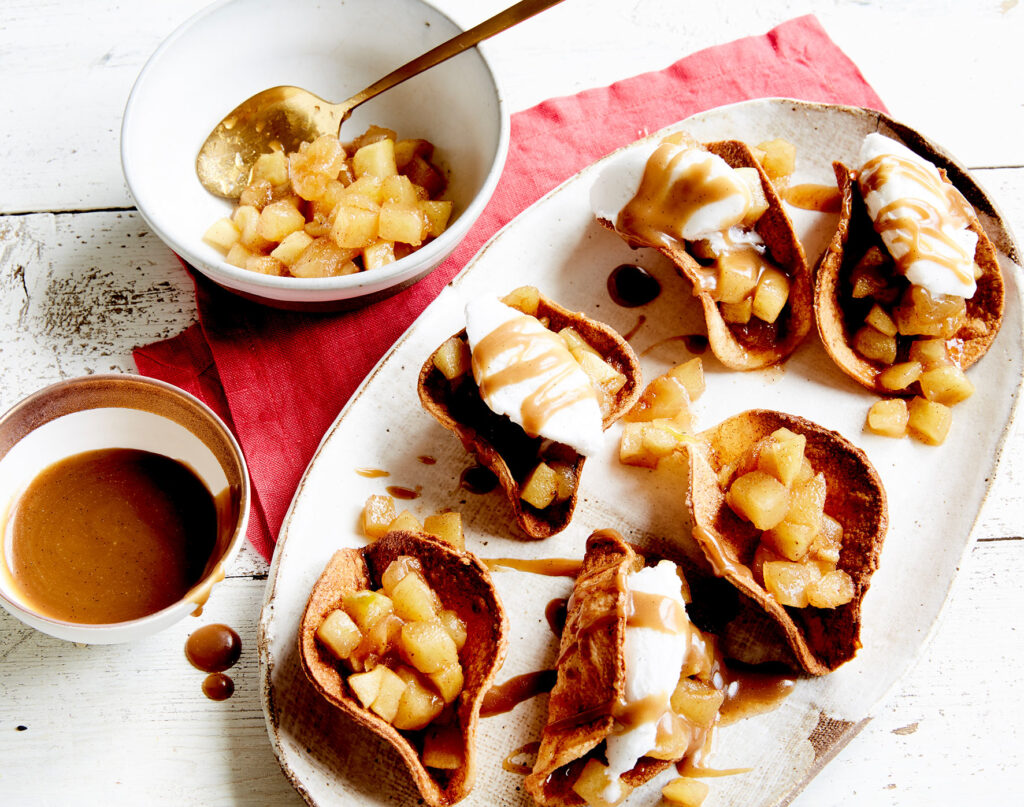 Recipe:
Apple Pie Tacos with Vanilla Bean Ice Cream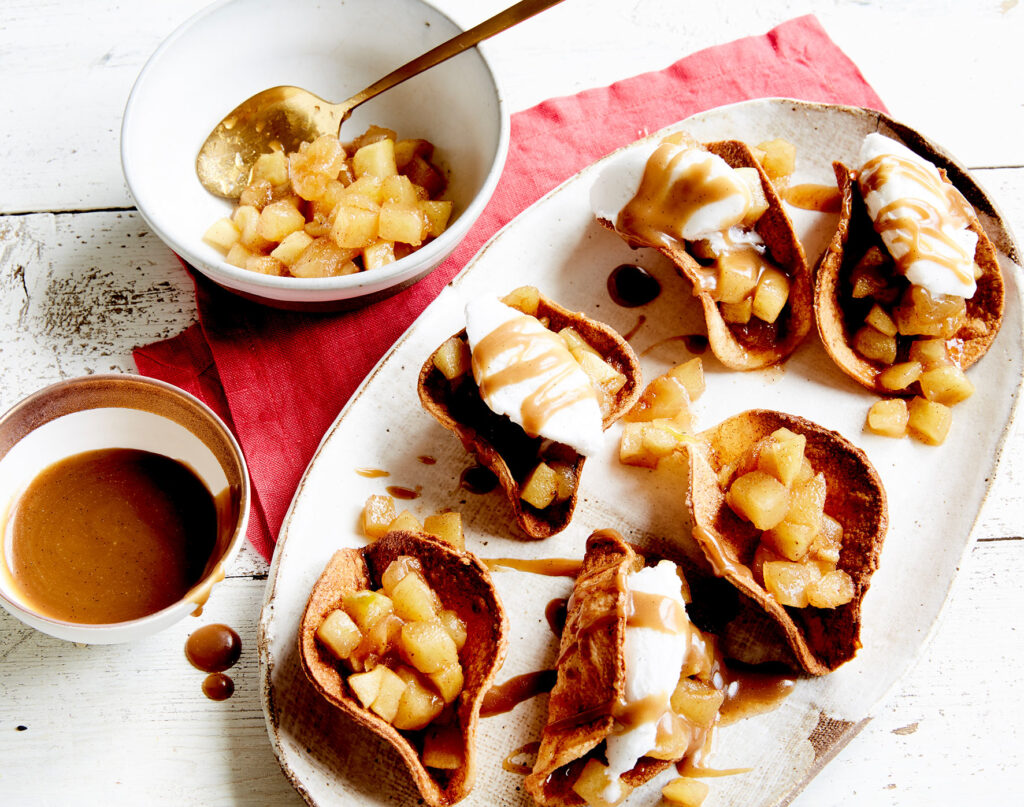 Posted in Desserts
Prep: 35 mins
cook 55 mins
Bragging Rights
You will need:
5 large flour tortillas
⅓ cup dairy-free butter
¾ cup sugar
2 teaspoons cinnamon
4 Granny Smith apples, peeled and diced into 1 cm cubes
1 tablespoon lemon juice
½ teaspoon nutmeg
1 tub Over The Moo Vanilla Bean Missing You ice cream
Coconut Caramel Sauce
400 g tin coconut cream
80 ml (⅓ cup) pure maple syrup
55 g (¼ cup) brown sugar or coconut sugar
1 teaspoon vanilla bean paste
¼ teaspoon salt flakes
Directions:
1

For the apple filling, pop the apples in a pan with ½ cup of the sugar, 2 tablespoons of the butter, 1 teaspoon cinnamon, and all the nutmeg and lemon juice. Sauté for 5-7 minutes until the apples are soft, stirring often.

2

To make the taco shells, use a large circular cookie cutter (10 cm across at least) to cut 4-5 smaller circles out of each tortilla. Discard the scraps.

3

Melt the remaining butter and combine in a small mixing bowl with the other ¼ cup sugar and 1 teaspoon cinnamon. Brush the mixture on to both sides of each mini tortilla.

4

Grab a muffin tin and flip it upside down. Place the cut tortilla circles in between each muffin cup so they are curved like little taco shells. Bake at 180°C for 10 minutes or until they are a crispy golden brown.

5

To make the sauce, combine the coconut cream, maple syrup, sugar and vanilla in a small, heavy-based saucepan over medium heat. Bring to a boil, then reduce heat to medium-low. Simmer, stirring often for 30 minutes or until the sauce has reduced by about two-thirds and darkened to a golden caramel colour. As it thickens, stir more frequently so it doesn't stick to the bottom of the pan and burn.

6

Remove from heat and stir in the vanilla and salt (you should have about ⅔ cup of sauce). Use immediately, or pour into a warm sterilised jar for later use. The sauce will thicken further as it cools.

7

To serve, spoon some apple mixture into each taco shell, top with a generous scoop of Over The Moo "Vanilla Bean Missing You" and garnish with a sprinkle of cinnamon and a drizzle of caramel.
Sign up for a week of delicious plant-based recipes
Send me my recipes
Heads up: by signing here you'll get free recipes and updates from VegKit. Privacy policy