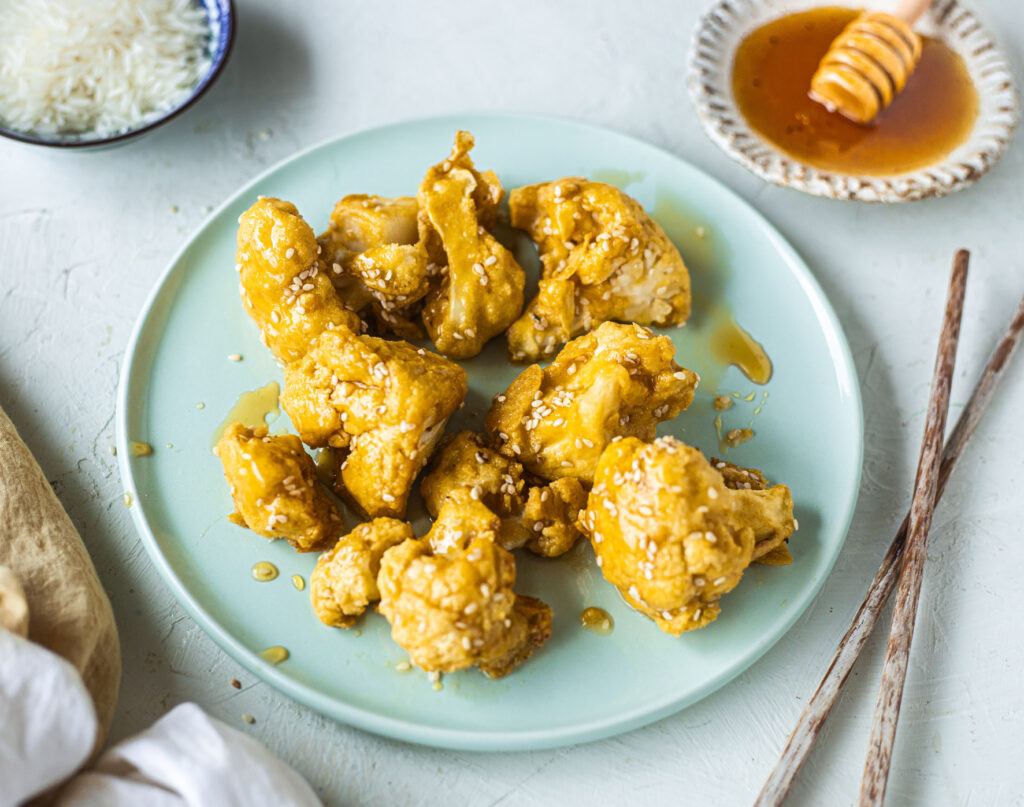 Prep: 15 mins
cook 20 mins
Easy Peasy
You will need:
1 cup chickpea or plain flour
½ cup plant-based milk, such as almond, soy or coconut (or water)
½ teaspoon salt
1 whole cauliflower, chopped into small florets
'Honey' sauce
½ cup maple syrup or rice malt syrup
2 tablespoons roasted sesame seeds
1 teaspoon apple cider vinegar or white vinegar
1 teaspoon soy sauce (or sub with ¼ teaspoon salt)
1 teaspoon sesame oil (or omit)
Directions:
1

Preheat the oven to 180°C. Line a large baking tray.

2

To make the batter for the cauliflower, combine the flour, milk and salt in a medium bowl. Mix until smooth.

3

To make the 'honey' sauce, mix all ingredients together in a small bowl. Set aside.

4

Dip each cauliflower floret in the batter shaking off the excess. Place the battered cauliflower on the lined baking tray making sure they aren't overlapping.

5

Bake the cauliflower for 20 minutes or until golden brown.

6

When the cauliflower is cool enough to touch, place all of them in a large serving bowl or deep serving plate. Drizzle the honey sauce over the cauliflower and toss until combined. Serve the cauliflower hot with rice or as desired.
Sign up for a week of delicious plant-based recipes
Send me my recipes
Heads up: by signing here you'll get free recipes and updates from VegKit. Privacy policy