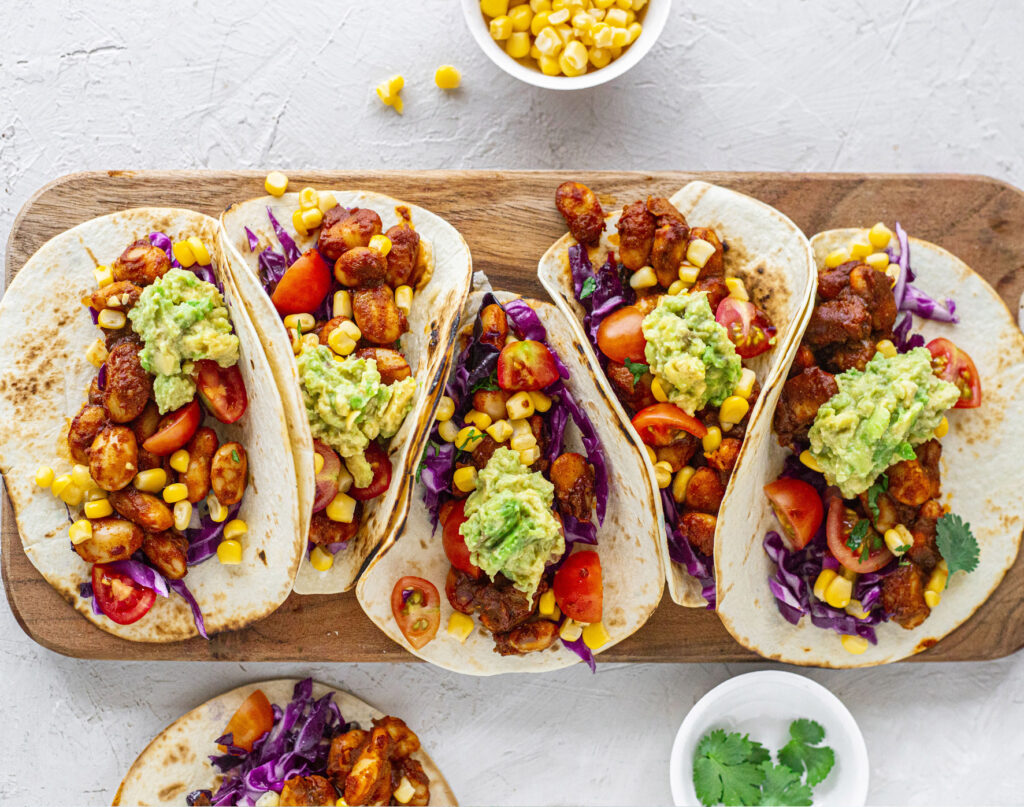 Prep: 20 mins
cook 10 mins
Easy Peasy
You will need:
BBQ beans
2 cans butter beans, drained
2 teaspoons smoked paprika
1 teaspoon ground cumin
1 teaspoon ground coriander
1 tablespoon olive oil (or sub water)
2 tablespoons bbq sauce
Add-ins
2 avocados, flesh only
2 limes
2 cups finely shredded red cabbage (about ¼ of a whole red cabbage)
1 cup cherry tomatoes, chopped
1 cup corn, fresh or canned
½ cup coriander, chopped finely
Salt and pepper, as desired
10-15 soft tacos, gluten free or paleo if needed
Directions:
1

Place a large fry pan over high heat. Add the butter beans, all the spices and olive oil and sauté until fragrant. Add the bbq sauce and stir until combined. Season with salt and pepper to taste. Set aside.

2

Add the avocado flesh and juice of 1 lime to a small bowl. Mash with a fork until it forms a chunky paste. Season with salt and pepper to taste.

3

Add the cabbage and a generous pinch of salt to a bowl. Mix until combined.

4

Warm up the tacos according to its packet instructions.

5

Fill each taco with the bbq butter beans, cabbage, tomatoes and corn. Top with the mashed avocado and coriander. Season with salt, pepper and the extra lime, if desired. Serve immediately.
Sign up for a week of delicious plant-based recipes
Send me my recipes
Heads up: by signing here you'll get free recipes and updates from VegKit. Privacy policy