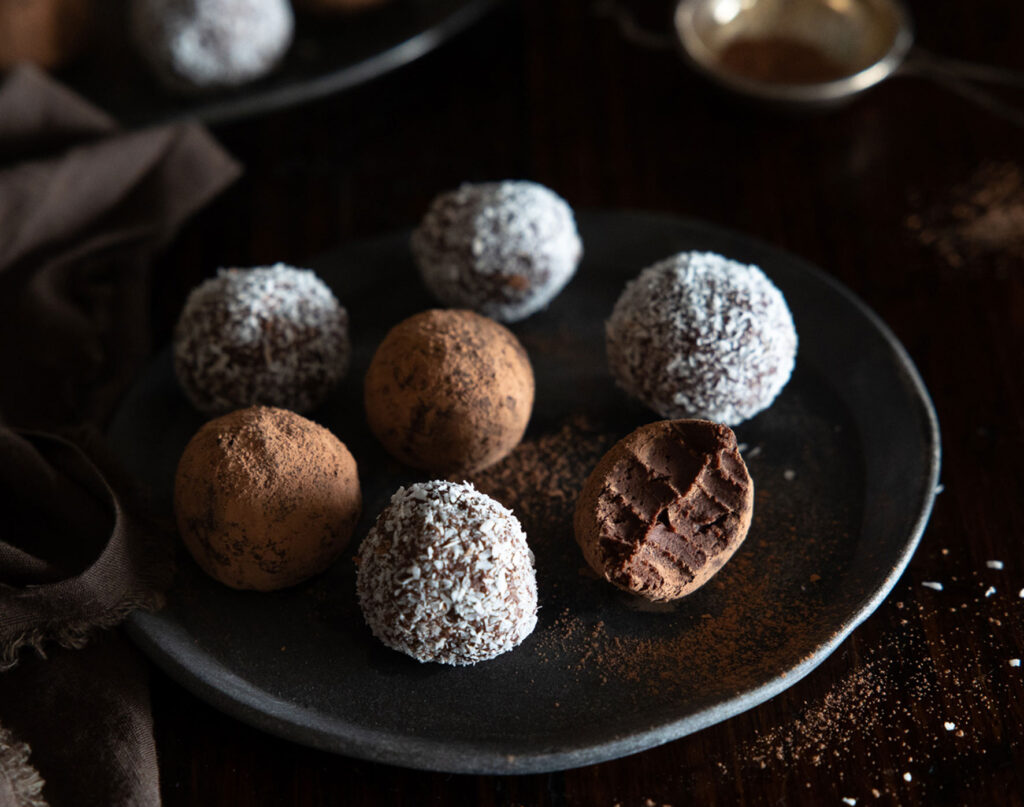 Prep: 20 mins
Totally Doable
You will need:
3 tablespoons raisins
1 tablespoon rum (optional)
160g vegan chocolate (preferably between 55%-75% cocoa)
6 tablespoons coconut cream, or the thick part of a can of coconut milk
1 teaspoon mixed spice
¼ teaspoon cinnamon
¼ teaspoon ginger powder
Cocoa powder, for rolling
Dessicated coconut, for rolling
Directions:
1

In a small bowl, add the raisins and the rum and mix. Set aside.

2

If the chocolate you are using is a block of chocolate, you'll first need to chop it up into smaller pieces. The smaller they are, the easier and quicker it will melt—ideally the size of buttons. If you're using buttons or pre-chopped chocolate, you can skip this step.

3

Place the chocolate in a heat-proof bowl and set aside.

4

In the meantime, using a small saucepan, heat the coconut milk or cream until it's brought to a gentle simmer. Do not boil! You can alternatively do this in the microwave.

5

Pour it over the chocolate and leave it to sit for 4-5 minutes. This will melt your chocolate and make it easier for you to mix.

6

Using a silicone spatula or wooden spoon, mix the chocolate until it's smooth. If you're finding that the chocolate isn't melting completely, place the heat-proof bowl over a small saucepan with some water in it (in the saucepan) on low-medium heat and stir the chocolate until it completely melts. Make sure the water inside the saucepan is not touching the bottom of your bowl — it's the steam that's melting your choc. Alternatively you can place it in the microwave, heating in 15 second intervals until melted.

7

Once completely melted, add in the chopped raisins and rum mixture, mixed spice, cinnamon and ginger powders and stir until well incorporated.

8

Place the bowl in the fridge for your ganache to set for at least 2 hours or overnight.

9

Once the ganache is ready, using a tablespoon, scoop out a tablespoons worth of ganache and roll in the palm of your hands working quickly until you have a ball.

10

Roll each truffle in the cocoa powder or desiccated coconut and reshape if necessary.

11

Continue the process for all the ganache until finished. It should make 10 truffles.

12

Place the truffles in the fridge in an airtight container for up to 1 week or at room temperature for a few days if it's cold.
Sign up for a week of delicious plant-based recipes
Send me my recipes
Heads up: by signing here you'll get free recipes and updates from VegKit. Privacy policy