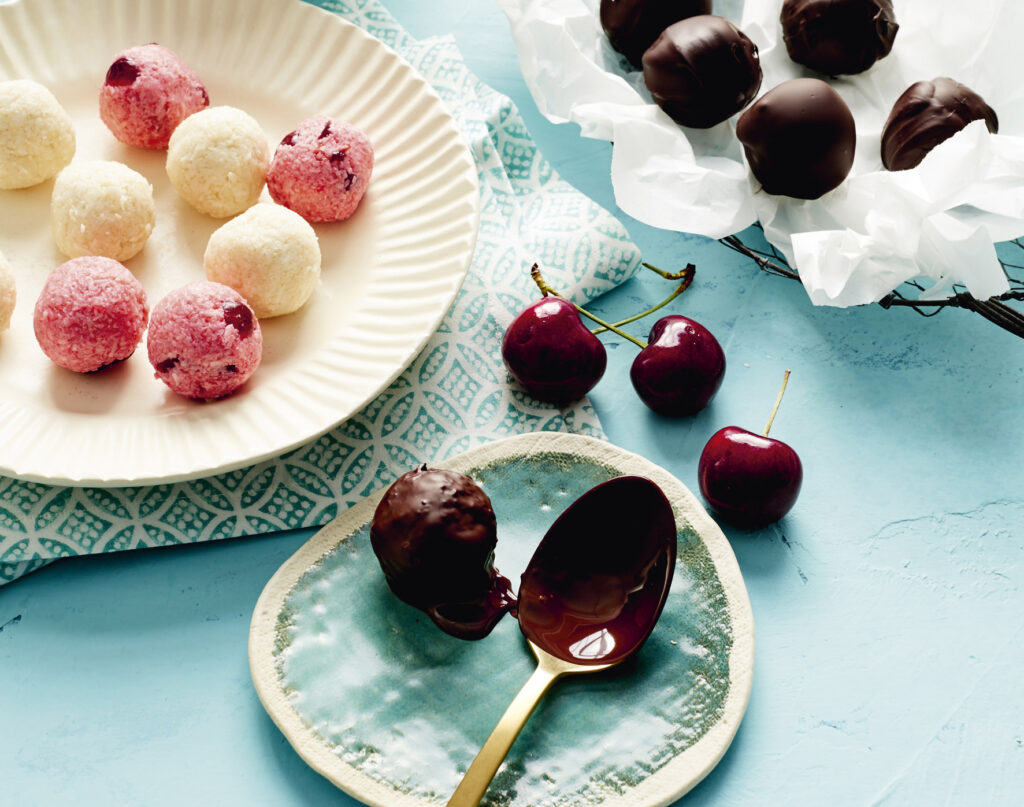 Recipe:
Coconut Cherry Truffles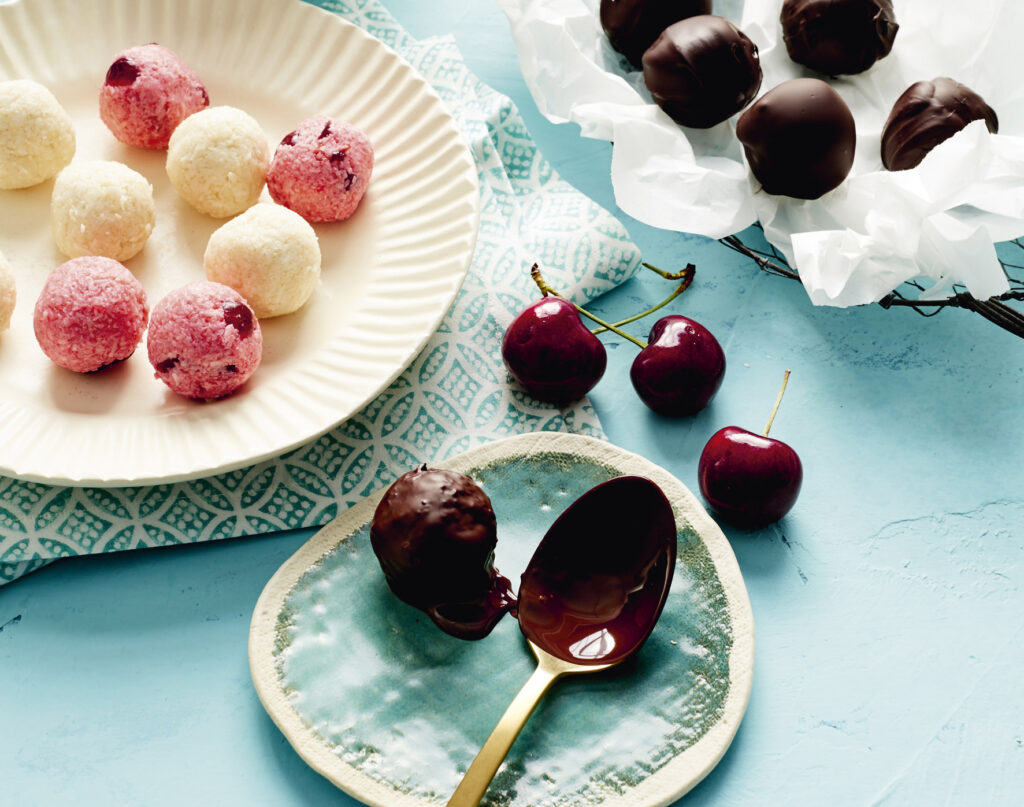 Posted in Desserts
Prep: 20 mins
cook 5 mins
set 35 mins
You will need:
2 cups shredded coconut
2 teaspoons pure vanilla extract
¼ teaspoon salt
4 tablespoons coconut oil, melted
3 tablespoons agave syrup
2 tablespoons full-cream coconut milk
75 g glace? cherries, roughly chopped
A drop of red food colouring (optional)
300 g dairy-free dark chocolate
Directions:
1

Line a large baking tray with baking paper.

2

Put the coconut, vanilla and salt in a blender. Pour in the coconut oil, agave syrup and coconut milk, then pulse in 1-second bursts until the mixture is very roughly combined. You're not aiming for a smooth paste here; it's important to keep some coconut texture. Don't worry if there are a few dry patches.

3

Using a spatula, scoop the mixture out of the blender, into a mixing bowl. Get your hands in there and give it all a good squish to make sure the vanilla, coconut milk and oil are evenly distributed. Divide the mixture into two even portions. To one portion, add the cherries and red food colouring, if using.

4

Now, the fun bit! Roll the mixtures into teaspoon-sized balls and place on the baking tray; a pretty touch with the cherry mixture is to shape it into love hearts by firmly pressing a spoonful into a small heart-shaped biscuit cutter and gently easing them onto the baking tray. Pop the tray in the fridge for at least 30 minutes to allow the coconut filling to set.

5

Once the coconut centres are cold, melt the chocolate, either in the microwave or in a double-boiler on your stovetop, then remove from the heat.

6

Working fairly quickly before the chocolate sets, drop one coconut ball into the chocolate and roll to cover. Scoop it out with a fork and allow any excess chocolate to drip off before placing it back on the baking tray.

7

Once you've choc-dipped all your truffles, place the tray back in the fridge to set the chocolate. You won't have to wait long – they'll be ready to devour in T-minus 5 minutes!
Sign up for a week of delicious plant-based recipes
Send me my recipes
Heads up: by signing here you'll get free recipes and updates from VegKit. Privacy policy