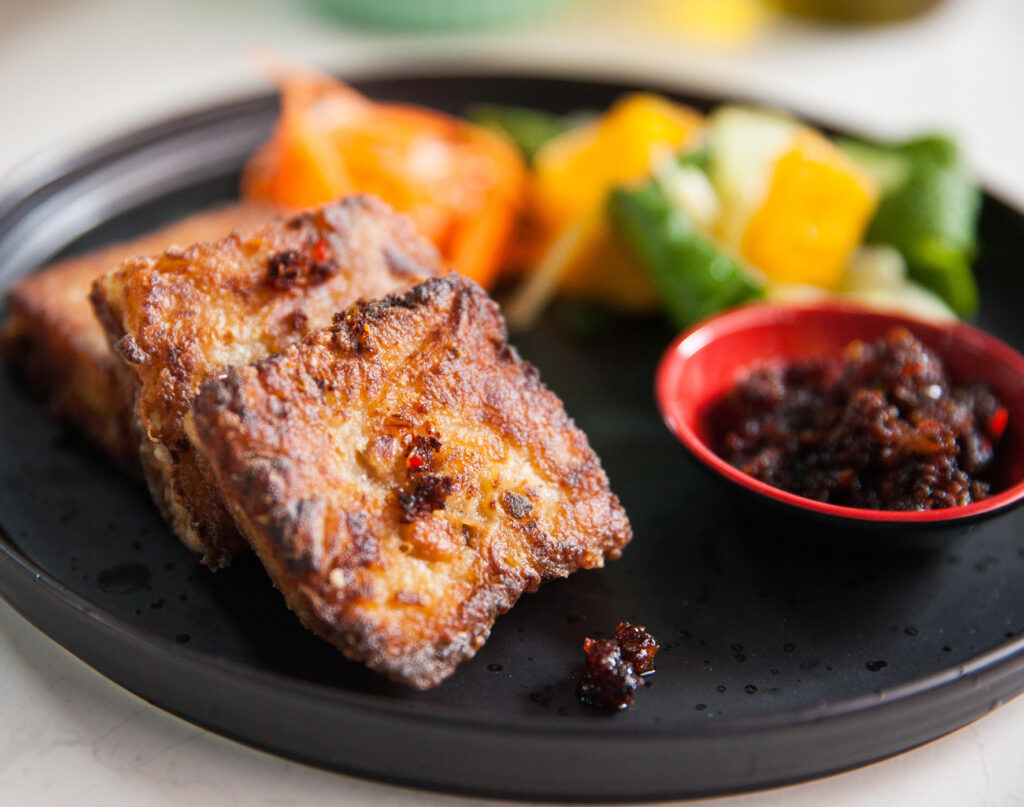 Recipe:
Bánh Củ Cải – Steamed Radish Cake with Sa Tế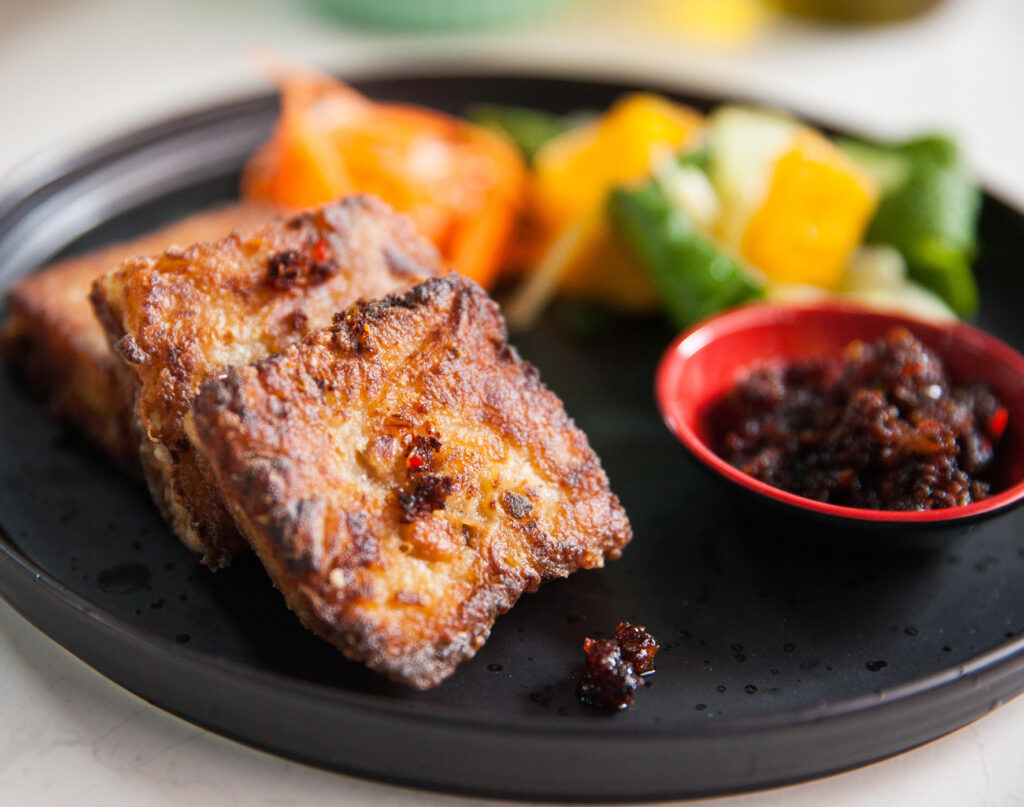 Posted in Freshly Picked
Prep: 20 mins
cook 1 hour
marinate 60 mins
You will need:
Mushroom Filling
6 medium-large dried shiitake mushrooms
4 Thai red shallots, diced
1 ½ tablespoons vegetable oil
1 tablespoon light soy sauce
½ teaspoon salt
Daikon
750g white radish
1 ½ tablespoon vegetable oil
2 cloves garlic
2 shallots
1 cup water
1 teaspoon sugar
1 teaspoon salt
½ teaspoon onion powder
¼ teaspoon ground white pepper
¼ teaspoon garlic powder
Batter
120g rice flour (extra fine)
30g tapioca starch (extra fine)
⅔ cup water (or use residual mushroom water)
Sate Paste
6 tablespoons vegetable oil
2 teaspoons red pepper flakes
2 teaspoons garlic minced
3–4 stalks lemongrass
5 red Thai shallots, or 10 Thai shallots
1 thumb length galangal – blitz
2 birdseye chillies (seeds removed)
1 teaspoon fermented chilli tofu
1 teaspoon sugar
Pickled vegetables
2 carrots
1 white radish
60g sugar
150ml water
2 tablespoons salt
100ml apple cider vinegar
Salad Mix
½ navel orange
2 sticks celery
1 punnet qukes (mini cucumbers)
1 pot micro herbs - lemon balm, or mint
Garnish
A handful of finely chopped spring onions or fresh coriander on top of radish cake
Directions:
1

For the radish cake, soak the dried shiitake mushrooms in water overnight. Keep the water. Remove stalks and chop the mushrooms.

2

Heat saucepan, add boiling water and mushrooms and cook for 2 minutes, adding water as necessary to keep mushrooms moist. As moisture disappears turn heat to medium, add oil, diced shallots, soy sauce and salt. Combine well then transfer to a bowl.

3

Cut the white radish top off, peel the skins off removing the fibrous outer shell. Place a wide bowl under grater, and grate the white radish using the large hole side of the box grater.

4

Heat oil in a saucepan over high heat and brown diced shallots and garlic for 1 minute. Add grated radish and juices into the saucepan, add water, sugar, salt, pepper, and powders into the saucepan and stir well. Cover and cook for 5 minutes.

5

Start on the batter mix: mix rice and tapioca starch well in a bowl and the combine with residual mushroom water and stir until batter is smooth.

6

Turn off saucepan cooking the radish and add the cooked mushroom mixture and stir well. Then, add the batter and stir well.

7

Oil the cake tin/pan and then move combined batter mix into the pan, flattening the top with a spoon or spatula.

8

Add water to the steamer and bring water to boil, ensuring the water level is just below where the cake tin will be placed. Place the cake tin in the steamer. Cover with lid and steam for 30–35 minutes.

9

Uncover the wok and let the radish cake cool for 10 minutes. Remove any water on the top layer of batter mix. Cool the cake tin in the fridge (covered in glad wrap).

10

Once the cake has been chilled to room temp (about 30 minutes in the fridge), slice the cake into 3 x 2" rectangles. Heat oil in a saucepan over medium heat. Dust the radish cakes with rice flour for extra crispiness and then cook in a saucepan for 4 minutes on each side until the skin is crispy.

11

For the sate paste, blitz shallots and galangal into a fine texture, then add to a large pan with lemongrass stalks and shallow fry on medium-low heat for 10 minutes. Add the rest of the sate paste ingredients except the sugar into the pan and fry on low heat for a further 12–15 minutes. Remove the large lemongrass pieces, add the sugar, stir, and immediately remove from the heat.

12

For the pickled vegetables, cut white radish and carrot into 3mm matchsticks. Rub chopped white radish with salt well to remove excess water and odour. Allow to sit for 20 minutes, then rinse thoroughly and drain.

13

Combine wet ingredients and sugar to make pickling juice. Whisk well. Split pickling juice into two batches and steep carrots and white radish separately. Allow to pickle for 30–45 minutes.

14

For the vibrant greens, cut celery thinly sliced 45° angle, 3mm slices and cucumbers diagonally or use a peeler to make strips.

15

Squeeze the juice out of half an orange in a bowl, toss celery and mini cucumbers in a bowl. Place greens on a plate and place lemon balm micro herb and generously place over the greens.

16

To plate, stack 3 cakes on top of each other. Place sauce ramekin on a plate beside the cakes. Place pickled vegetables and greens adjacent to garnish. Top with spring onions or fresh coriander.
Sign up for a week of delicious plant-based recipes
Send me my recipes
Heads up: by signing here you'll get free recipes and updates from VegKit. Privacy policy