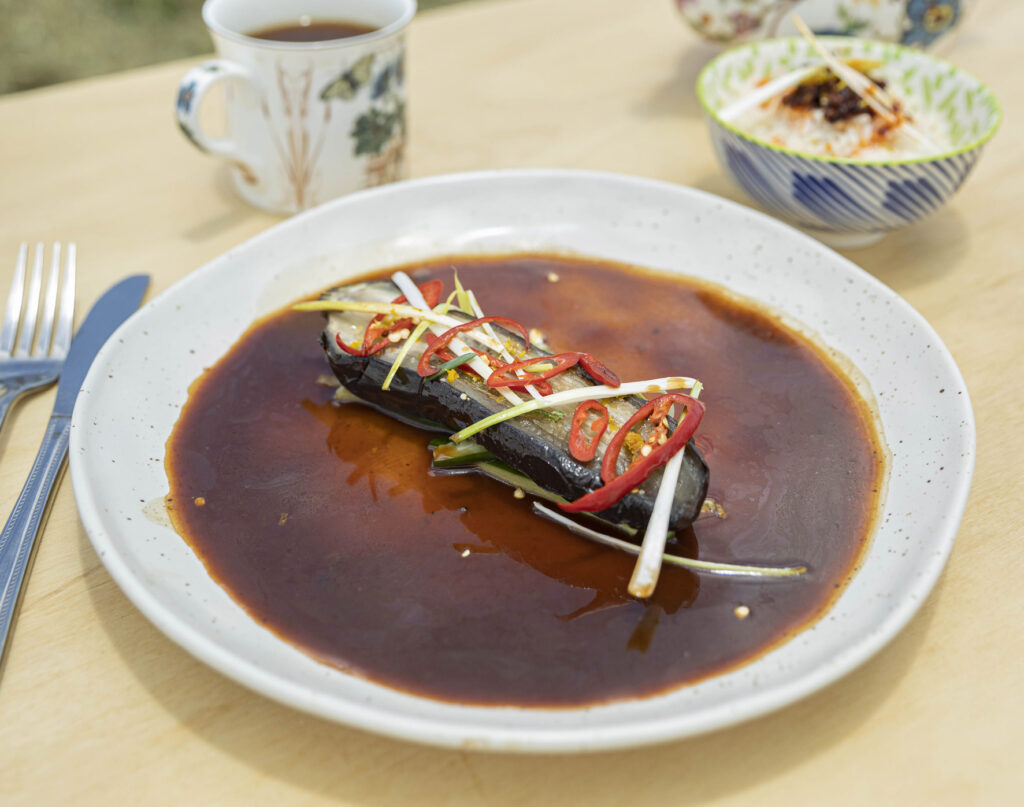 Recipe:
Braised Eggplant in Black Tea Masterstock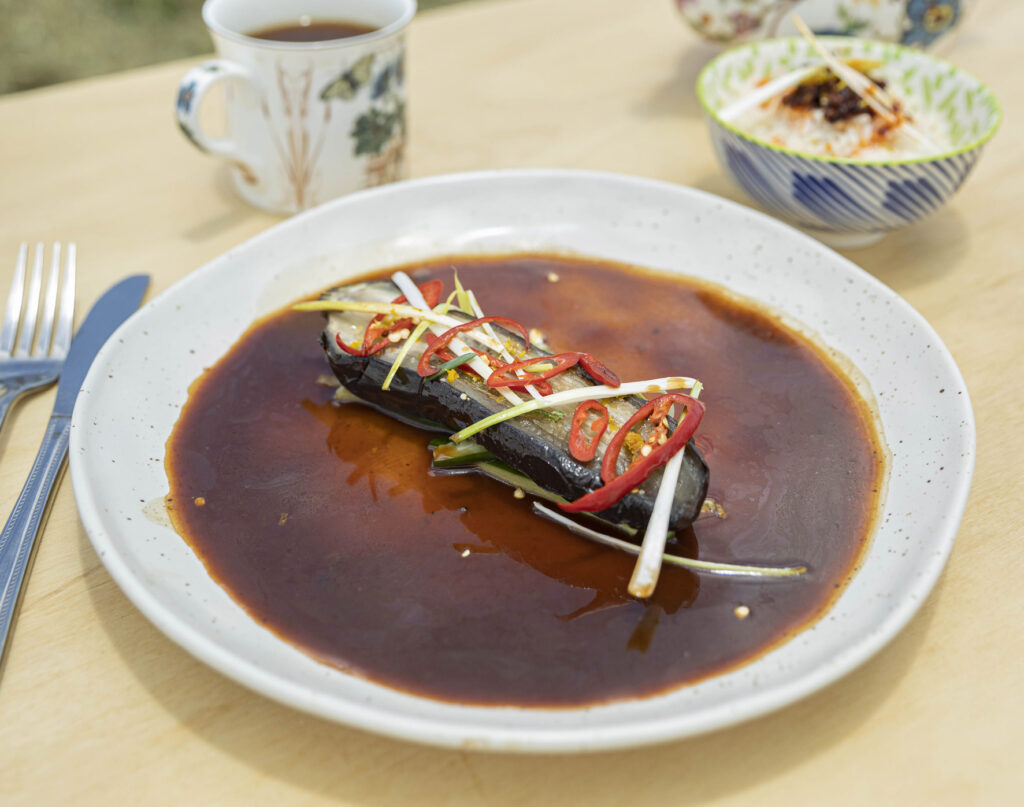 Prep: 15 mins
cook 25 mins
Totally Doable
You will need:
2 eggplants
1 cucumber
3 spring onions
2 long red chillies
2 serves white rice
Tea masterstock:
3 cups water
½ cup light soy sauce
¾ cup shaoshing wine
50g brown sugar
1 orange, zest and juice
1 stick cinnamon
2 star anise
3 big slices of ginger
3 cloves garlic
2 tablespoons black tea
For the salt:
1 orange, zest only
2 tablespoons sea salt
To finish:
Spoon of crispy chilli oil
Directions:
1

In a pot add the water, soy, wine, brown sugar, 2 strips of orange zest and juice, cinnamon, star anise, ginger, garlic, and tea. Bring to a boil then turn down low.

2

Peel 3 strips of the eggplant skin and leave on the stem and with a knife poke through to the middle of the eggplant 10 times, then place in the pan with the ingredients, lay a small plate or something weighted on top so the eggplant is fully submerged. Cook for 20 minutes until soft.

3

In the meantime, slice the cucumber thinly, along with the spring onion and red chilli. Set aside.

4

Once the eggplant is cooked through. Take out and set aside to cool.

5

With a heavy-based pan on medium heat, and a splash of oil and lay the eggplant skin side down. Cook for 3 minutes then turn and cook for another 3 minutes. For the last 3 minutes, add 2 ladles of the cooking liquid and reduce down to a thickened sauce.

6

To make the orange salt, grate the zest of the remaining orange zest onto the salt and mix with your fingers (this will last weeks and can be used in so many different ways).

7

Set the eggplant aside to rest and season with the orange salt. Cut the eggplant in half and place on the plate along with a spoon of rice, the cucumber, spring onion and chilli.

8

Serve.
Sign up for a week of delicious plant-based recipes
Send me my recipes
Heads up: by signing here you'll get free recipes and updates from VegKit. Privacy policy