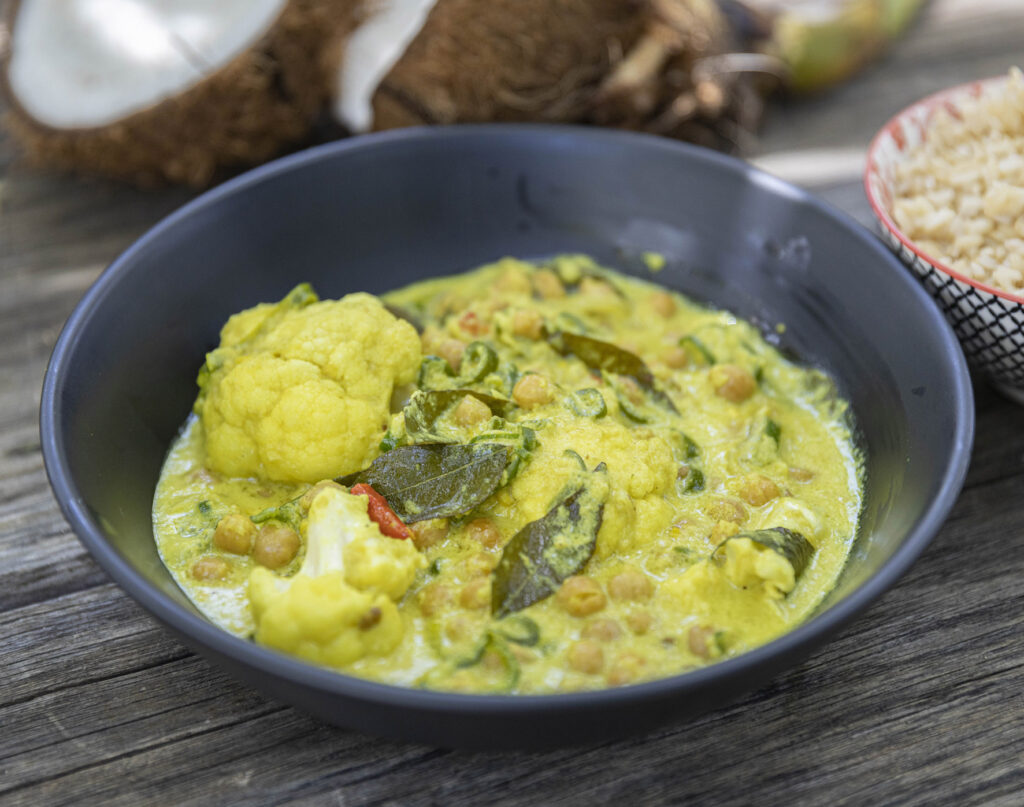 Recipe:
Cauliflower & Turmeric Curry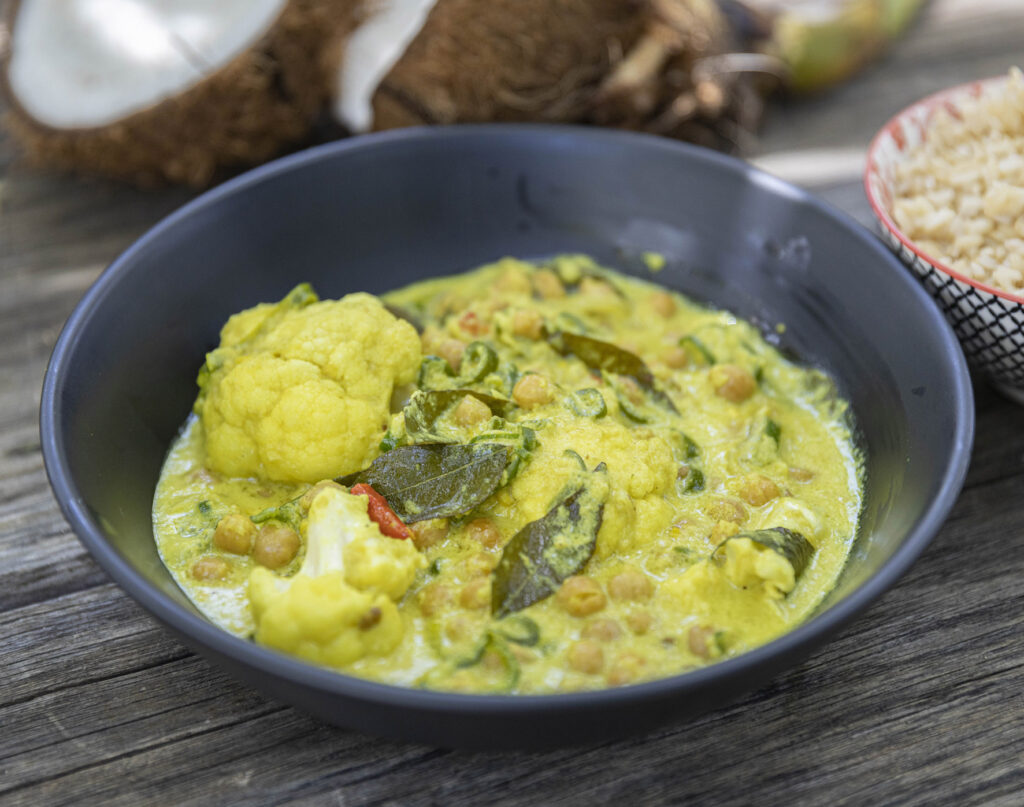 Prep: 10 mins
cook 15 mins
Easy Peasy
You will need:
70ml coconut oil
2 shallots, thinly sliced
40g ginger, minced
6 garlic cloves, minced
1 teaspoon fenugreek seeds
5g turmeric
1 teaspoon coriander powder
8 long green chillies, thinly sliced (deseed them or use fewer if you want less heat)
12 curry leaves
400ml coconut milk and cream (fresh from the coconut if possible)
¼ cauliflower, roughly chopped
1 tin chickpeas, drained
½ teaspoon salt
1 lime, juice only
To serve
Directions:
1

If you're using a fresh coconut: Hit the centre of the coconut with the back of a big knife and turn and hit again along the same line, turning and hitting repeatedly until the coconut has cracked open. With a spoon or scraper, take out the flesh. If you have used a spoon, blend with ½ cup of water until the mixture is relatively smooth. Then strain through a muslin cloth, squeezing out all the creamy coconut milk. If you have a coconut grinder (don't we all?), grind out the flesh into a bowl and mix with a little warm water, then pass coconut milk through a muslin cloth in the same way.

2

Add the coconut oil to a wok or heavy-based pan. Add shallots, ginger, and garlic, then turn the heat to medium low and add fenugreek, turmeric and coriander powder. Thinly slice the long green chilli and add them in. Then add your curry leaves. Keep stirring to combine everything; cook everything slowly as you are aiming for sweetness here.

3

Add the coconut milk and mix it together. Then add your cauliflower and chickpeas, and season with salt. Simmer until the cauliflower is tender but still has a little bite to it. About 15 minutes on low.

4

Just before serving, squeeze over the juice of the lime and a final pinch of salt. Serve with your favourite rice.
Sign up for a week of delicious plant-based recipes
Send me my recipes
Heads up: by signing here you'll get free recipes and updates from VegKit. Privacy policy