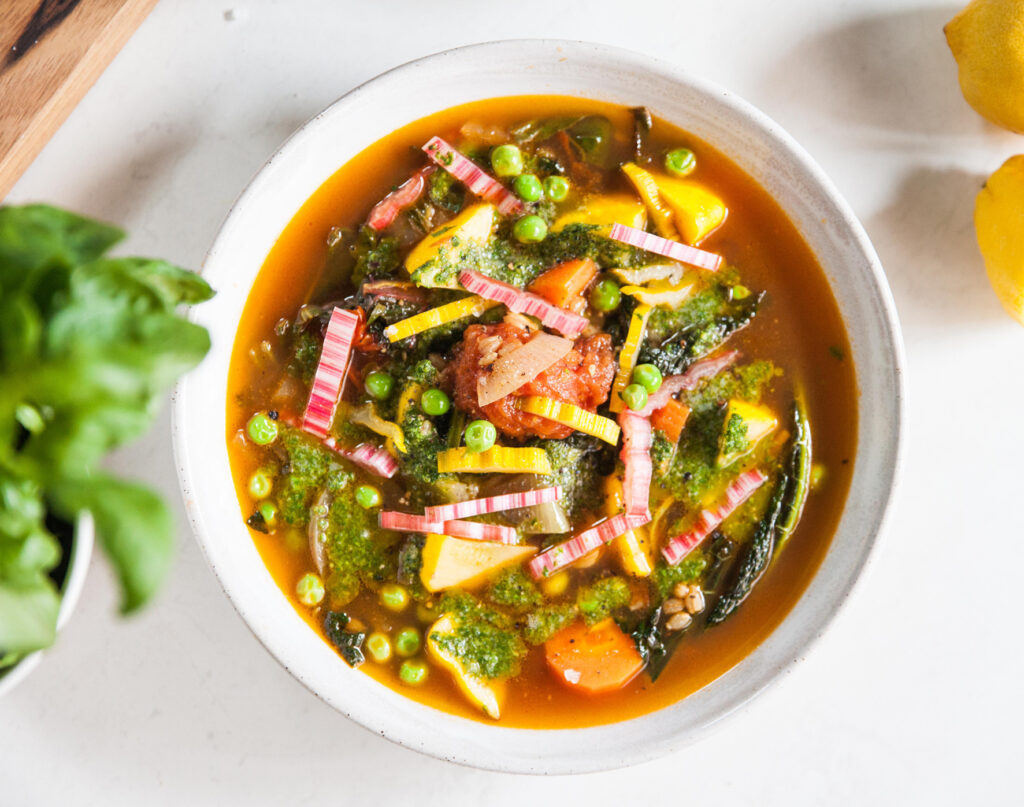 Recipe:
Roast Tomato, Cavolo Nero & Pearl Barley Stew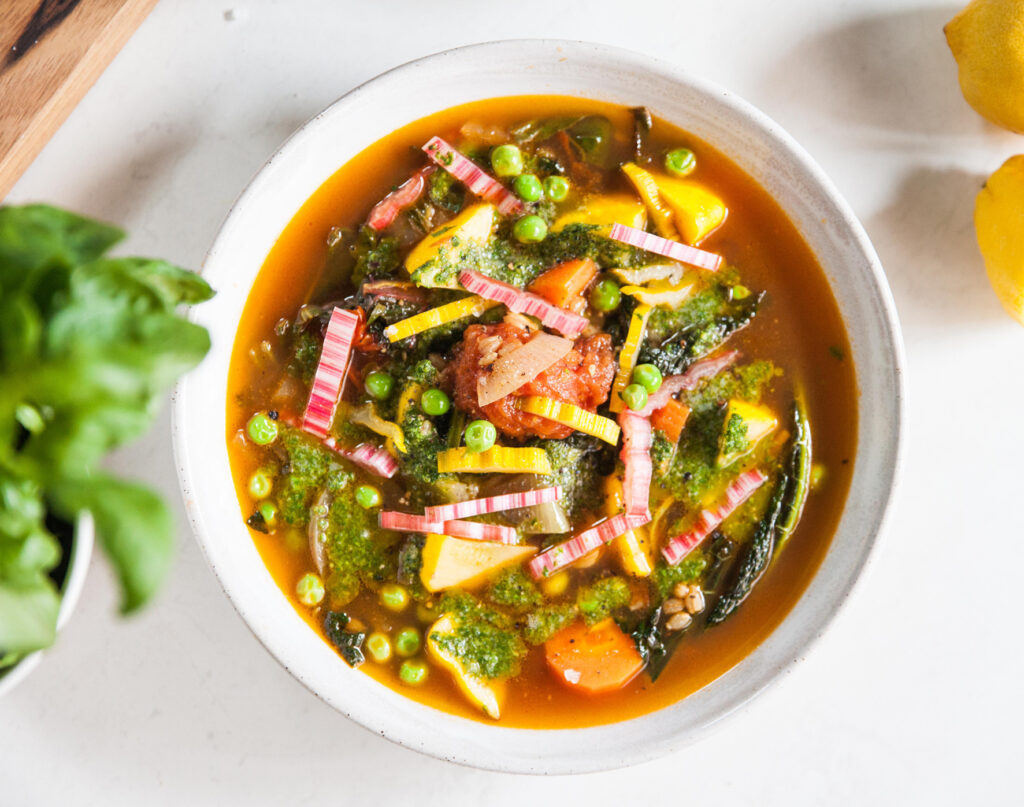 Posted in Freshly Picked
Prep: 15 mins
cook 1 hour
Easy Peasy
You will need:
4 large ripe tomatoes
30ml extra virgin olive oil
1 onion, roughly chopped
1 bunch cavolo nero (Tuscan kale)
1 bunch rainbow chard, roughly chopped (reserve the stalks)
1 stick celery, roughly chopped
1 carrot, chopped into bite–sized pieces
4 garlic cloves, roughly chopped
2 yellow zucchinis, chopped into rough segments
100g fresh peas
1.5 litres vegetable stock
½ cup pearl barley (soak overnight to speed up cooking time)
1–2 teaspoon sugar, optional
Green Sauce
1 bunch parsley
1 bunch basil
1 lemon, zest and juice
½ garlic clove
40ml extra virgin olive oil
Salt & pepper
Garnish
To Serve
Directions:
1

In a large heavy cast iron pan on high heat, add the olive oil and the tomatoes and allow to blister a lot. Keep cooking and cooking until they darken on the skin, split and start to break down. Turn the heat down if the oil really starts smoking. Should take approximately 10 minutes.

2

Turn the heat to a medium and add the onion celery and carrot, cooking for another 5 minutes or until the onion turns translucent. Add the pearl barley and cook for 1 minute. Add the cavolo nero, (it will wilt down to nothing). Add 1 litre of vegetable stock, reserving the remaining half a litre, then add salt and pepper. Turn the heat down to medium-low and slowly cook away for 10 minutes. The idea is to have the leaves break down and then soak up all the flavour. Cook for a further 20 minutes.

3

In the meantime, in a blender or mortar and pestle add the leaves of the basil and parsley, zest and juice of half a lemon, garlic, olive oil and salt. Blitz until it comes together.

4

With 10 minutes to cook, take the lid off and add the squash and rainbow chard, stirring on occasion to make sure everything is cooking through evenly. Stir the peas through and turn the heat off (they will cook in the residual heat). Taste the stew and check the seasoning — it may need a little more salt and possibly a small amount of sugar to balance the sweetness.

5

In a bowl, ladle in the soup then add a generous spoonful of the green sauce on top. Serve with crusty bread and additional finely sliced rainbow chard stalks on top.
Sign up for a week of delicious plant-based recipes
Send me my recipes
Heads up: by signing here you'll get free recipes and updates from VegKit. Privacy policy