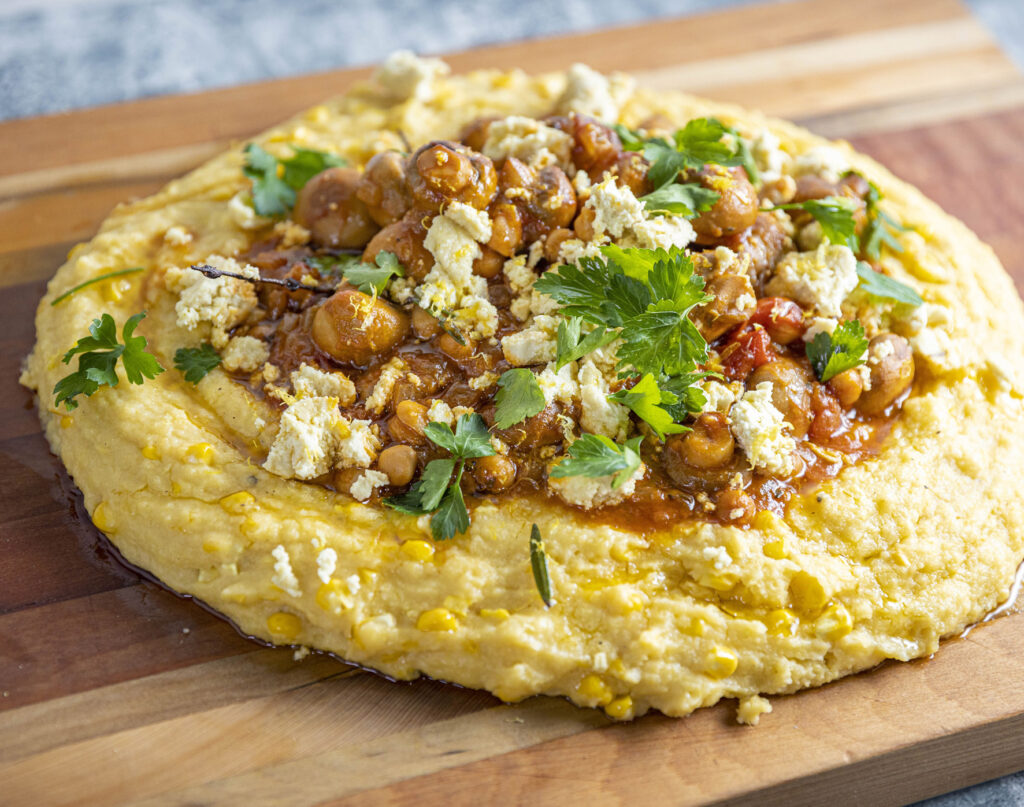 Recipe:
Roasted Button Mushrooms & Chickpeas with 'Corned-up' Polenta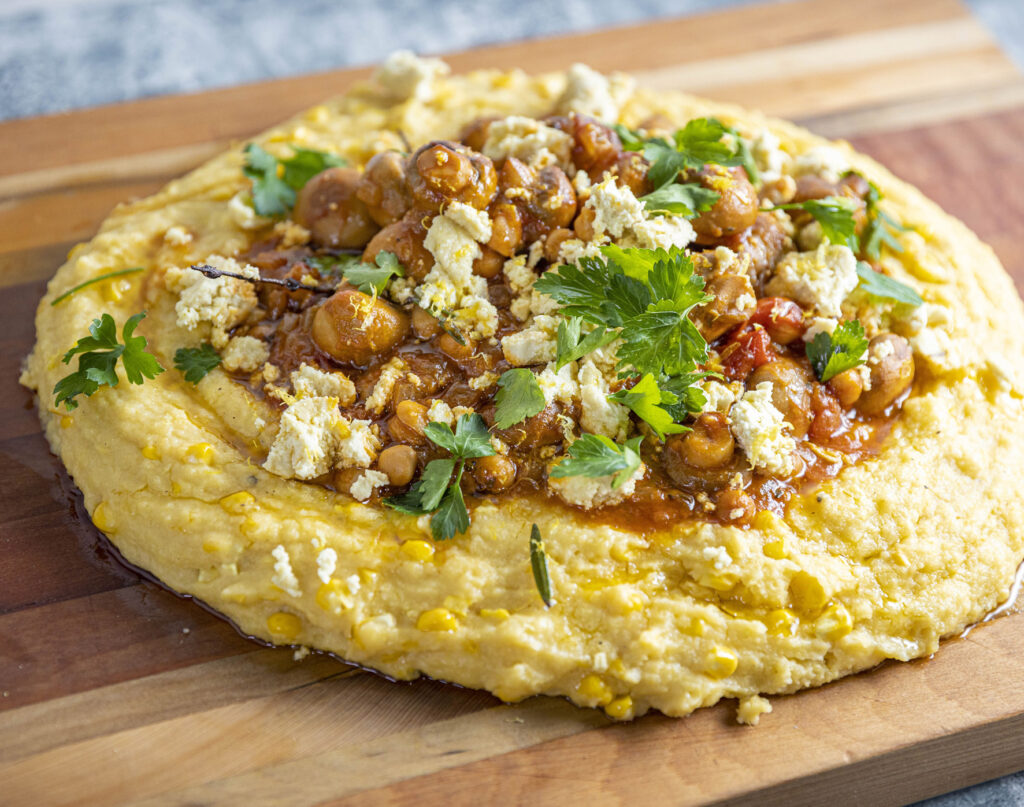 Prep: 10 mins
cook 50 mins
Easy Peasy
You will need:
1kg button mushrooms
2 tablespoons plant-based butter
1 brown onion, diced
4 garlic cloves, roughly sliced
70ml white wine
1 tin cherry tomatoes
1 tin chickpeas, with brine
2 tablespoons soy sauce
500ml vegetable stock
1 teaspoon brown sugar
2 thyme sprigs
2 bay leaves
1 parsley bunch, finely chopped
1 lemon, zest
1 jar plant-based feta (optional)
Salt and pepper, to taste
Olive oil
For the polenta:
300g polenta
1.75L oat milk
3 tablespoons plant-based butter
2 corn on the cob
Salt and pepper to taste
Directions:
1

Preheat the oven to 160°C.

2

For the mushrooms place the plant-based butter and mushrooms into a baking tray along with diced onions and cook on the stovetop until nice and coloured. Add in diced garlic, sprigs of thyme and cook for 2 min then add the white wine. Cook until it is almost all gone. Add in the cherry tomatoes, chickpeas with liquid, stock, soy sauce, brown sugar, bay leaves and parsley stalks, place in the oven uncovered and cook for 40 minutes.

3

In the meantime heat the oat milk on the stove on a heavy-based pan, when it comes to a boil, rain in the polenta, constantly stirring, turn the heat to medium-low, shave off the corn kernels and place in with the mixture. Keep stirring until the polenta is creamy and cooked. Stir in the plant-based butter and finish with salt and pepper.

4

Place a large amount of polenta on the serving plate, top with the mushrooms. Add crumbled pieces of feta if using. Top with parsley, zest of the lemon and a generous drizzle of olive oil.
Sign up for a week of delicious plant-based recipes
Send me my recipes
Heads up: by signing here you'll get free recipes and updates from VegKit. Privacy policy