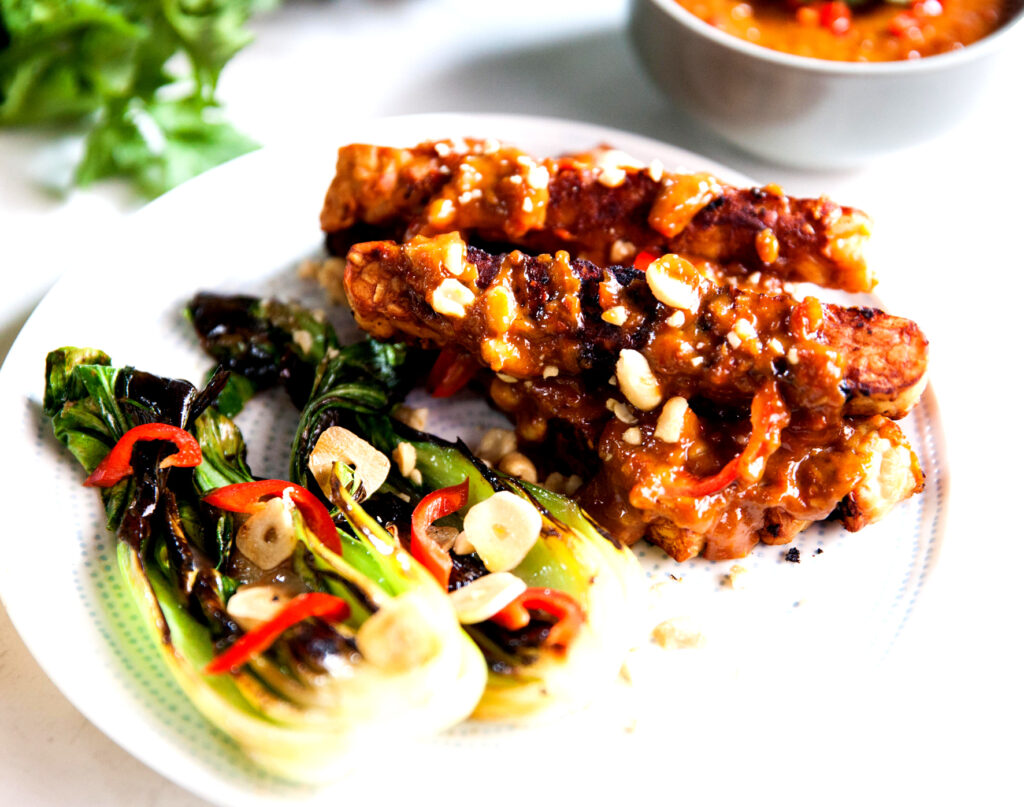 Recipe:
Saté Tempeh with Pan Fried Bok Choy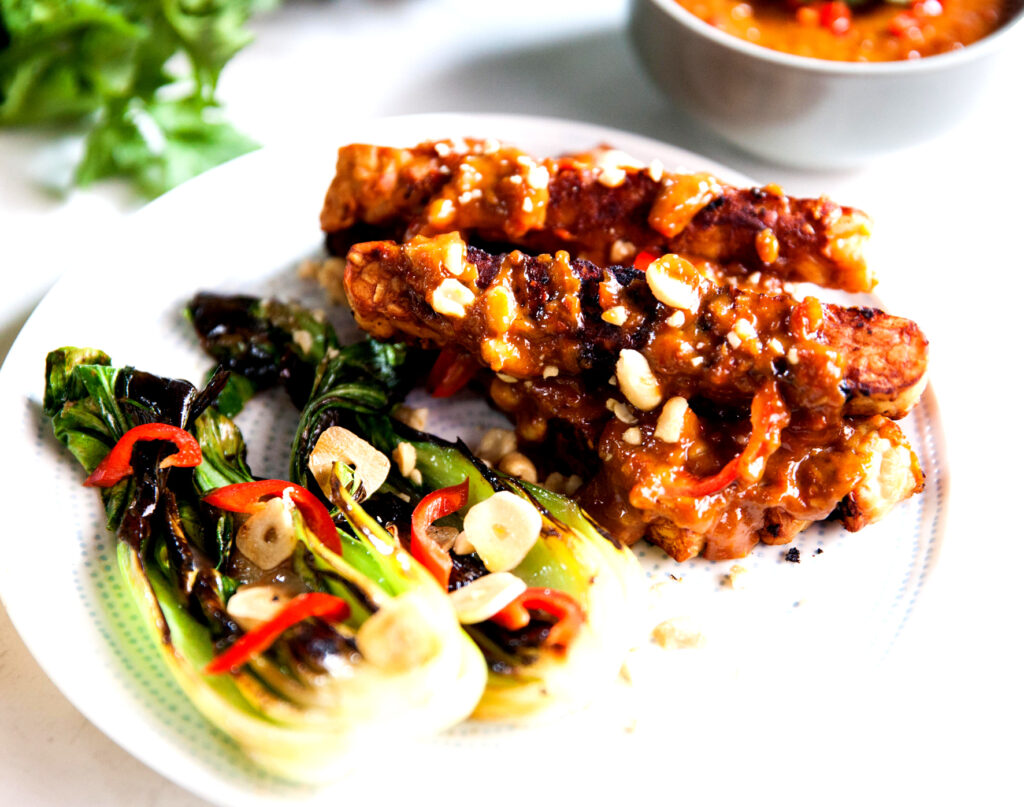 Posted in Freshly Picked
Prep: 20 mins
cook 35 mins
Totally Doable
You will need:
1 block of tempeh
1 tablespoon peanut oil
Saté
3 red chillies, seeds removed
2 garlic cloves
2 shallots
¼ cup ketchup manis
1 cup coconut cream
½ cup smooth peanut butter
2 teaspoons soy sauce
1 teaspoon sugar
1 lime, juice only
¼ cup unsalted roasted peanuts, finely chopped
Dash of peanut oil
Salt, to taste
Bok Choy
10ml peanut oil
1 bunch bok choy
1 clove garlic, roughly sliced
1 lime
Salt
To serve
½ cup rice
4 sprigs fresh coriander
1 long red chilli, sliced
¼ cup unsalted roasted peanuts, roughly chopped
Directions:
1

Slice the block of tempeh into strips.

2

In a small blender, blitz chillies, garlic, shallots, and a splash of peanut oil to a crumb consistency.

3

In a pot, add this chilli mixture to another dash of peanut oil, and heat through for a couple minutes, then add ketchup manis, coconut cream, peanut butter, soy sauce, and sugar. Bring the mixture to a quick bubble, reduce the heat and cook until it is slightly thickened. Add lime juice and ¼ cup peanuts, and stir through.

4

In a frypan, heat some peanut oil, and place the tempeh cut side down; fry until crisp on one side. Turn the tempeh over and brush some saté sauce over the cooked crispy side. Turn one more time and repeat (the sauce will colour quickly so be quick at this stage). Remove from heat and let rest.

5

Slice the bok choy in half lengthwise, leaving on the stems. In the same pan turn the heat up until it is smoking hot. Pour in peanut oil and place the bok choy cut side down, cooking on this side only, for 2 minutes. You can gently slide the bok choy around the pan to spread the oil evenly on its surface.

6

Add garlic and lime juice to the bok choy and cook for a final 30 seconds. Sprinkle with salt and take out of the pan.

7

Serve alongside rice. Plate bok choy beside the tempeh; drizzle the saté sauce over the tempeh (or everything, if you like it super saucy!) and garnish with sliced red chilli, more crushed peanuts, and some coriander.
Sign up for a week of delicious plant-based recipes
Send me my recipes
Heads up: by signing here you'll get free recipes and updates from VegKit. Privacy policy