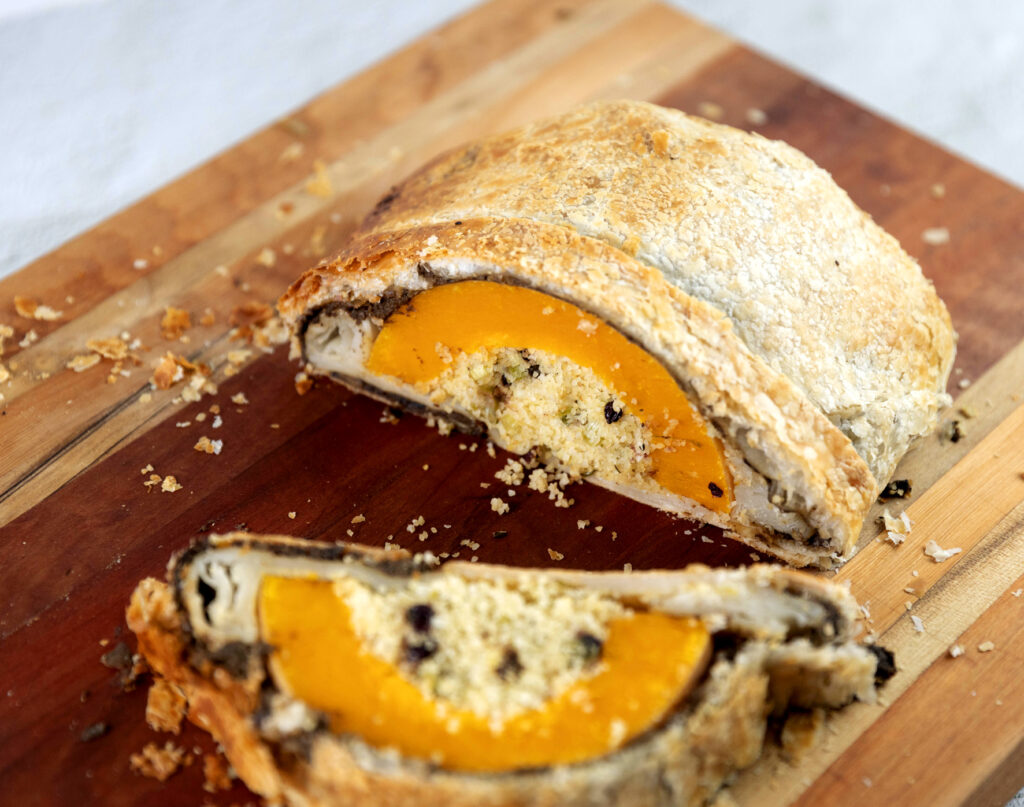 Recipe:
Stuffed Roast Pumpkin Wellington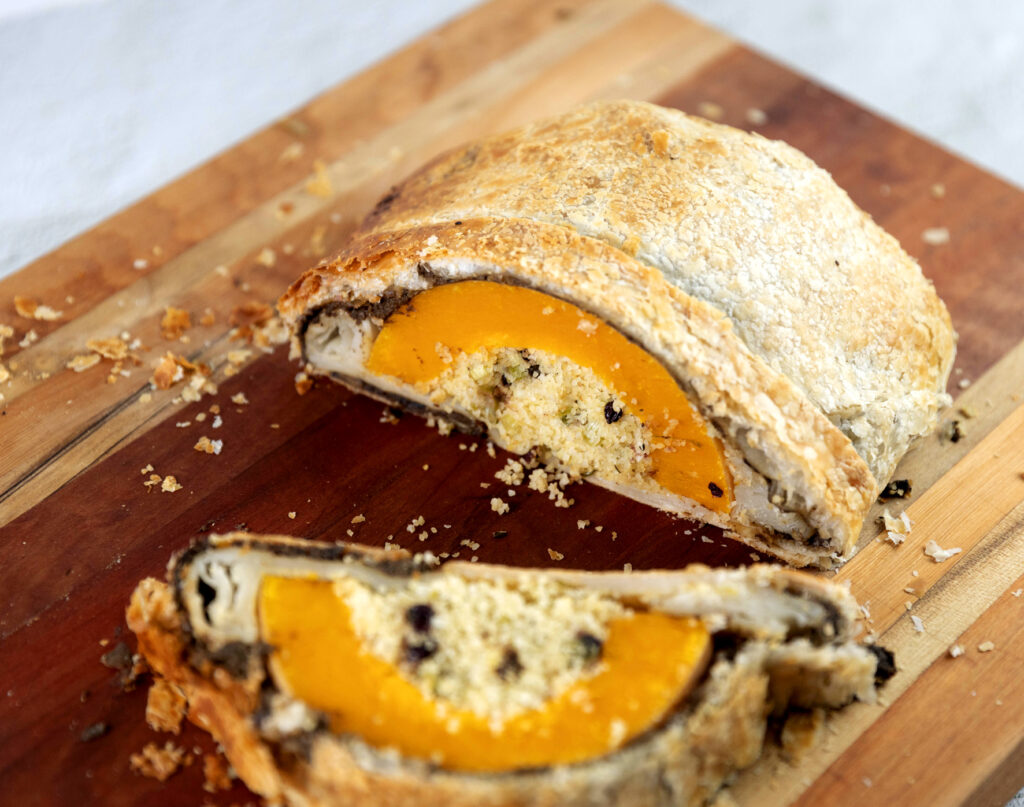 Posted in Freshly Picked
Prep: 20 mins
bake 60 mins
Totally Doable
You will need:
½ butternut pumpkin
20ml vegetable oil
1 packet vegan puff pastry
50g Dijon mustard to paint
Extra plant-based butter, to paint
For the mushroom layer
50g plant-based butter
1kg Swiss brown or chestnut mushrooms
2 cloves of garlic
1 large sprig thyme
100ml dry white wine
Pumpkin scooped out from the cavity (no seeds)
Salt and pepper
Stuffing
100g cracked bulgur wheat
1 tablespoon bread crumbs
20ml olive oil
1 garlic clove minced
3 spring onion diced
1 tablespoon deep-fried currants
1 sprig rosemary finely cut
Salt and pepper
Directions:
1

Preheat oven to 180°C.

2

With the pumpkin, scoop the seeds and pulp out of the cavity and rub with oil and place in a pan, on high heat cooking all sides until browned. Take out.

3

In the meantime, blend the mushrooms with any of the pumpkin cavity you removed until a crumb–like consistency.

4

In a pan on medium-high heat, melt the vegan butter. Place in the mushrooms and sweat down.

5

After 5 minutes dice the garlic and add to the mixture along with the thyme and white wine. Cook until all the liquid has been cooked out — this is a really important step, cooking out the moisture will ensure your mushroom mixture doesn't steam the pastry! Turn off the heat and let cool.

6

For the stuffing add the olive oil to the bulgur along with the garlic, onion, currants and rosemary along with salt and pepper and 120ml boiling water. Cover with a plate and set for 10 minutes.

7

Lay the pastry out in its flat rectangular shape. Spread the mushroom mixture on top of the pastry.

8

Paint the pumpkin with dijon mustard until it's all coated. Before the pumpkin goes on, stuff the hole with the bulgur wheat stuffing mixture, packing it in tightly.

9

Place cut side down on the mushroom mixture and then fold up it up until the pastry is fully wrapping the pumpkin.

10

Paint with some melted plant-based butter and place in the oven for 1 hour or until golden brown and a skewer pokes in and comes straight back out without resistance.
Sign up for a week of delicious plant-based recipes
Send me my recipes
Heads up: by signing here you'll get free recipes and updates from VegKit. Privacy policy