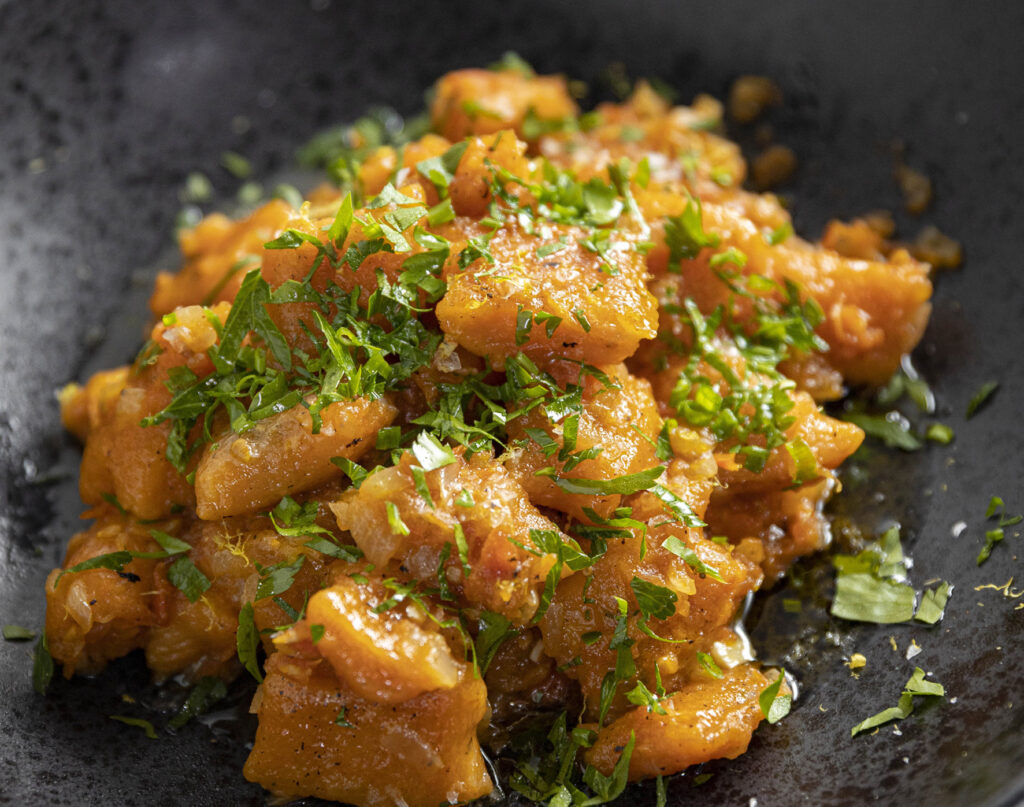 Recipe:
Sweet Potato Gnocchi with Easy Tomato Sauce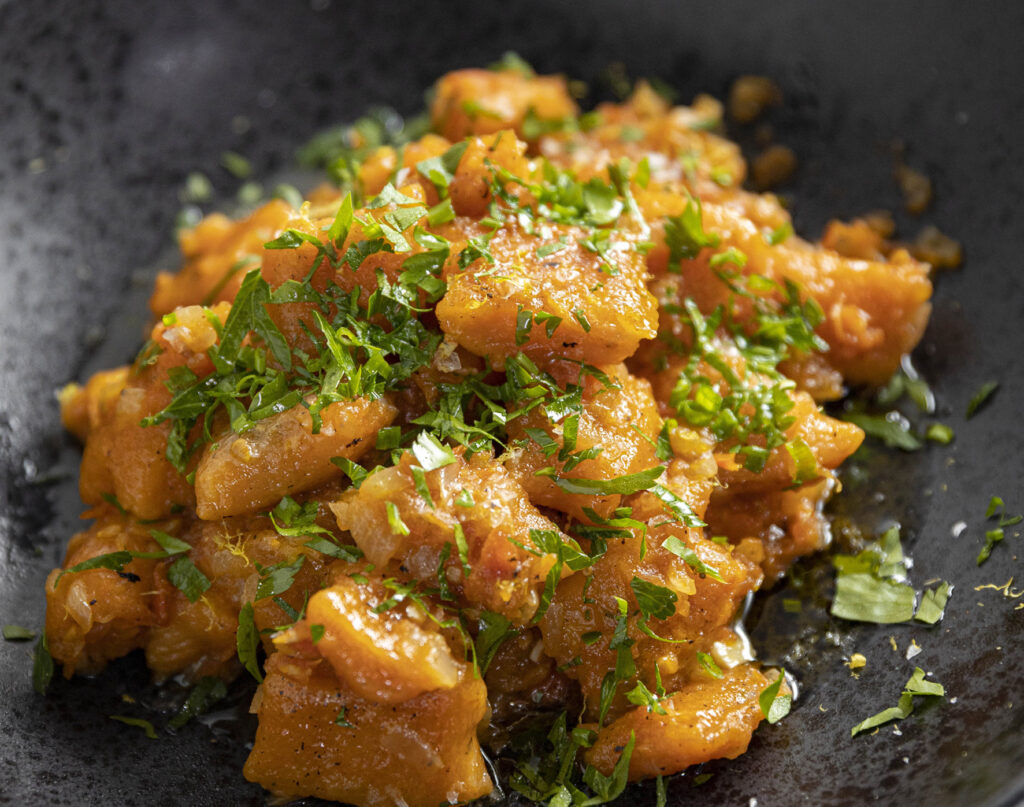 Posted in Freshly Picked
Prep: 20 mins
cook 30 mins
bake 1 hour
You will need:
2 medium sweet potatoes, skin on
400g all-purpose flour (plus extra for dusting)
2 thyme stalks
¼ teaspoon nutmeg
2 teaspoons salt
For the sauce:
4 tablespoons extra virgin olive oil
1 brown onion, roughly diced
2 garlic cloves, roughly sliced
4 tomatoes
2 bay leaves
Salt and pepper
To serve:
Extra virgin olive oil
Salt & pepper
Lemon zest
1 bunch chives, finely chopped
1 bunch parsley, finely chopped
Directions:
1

Preheat the oven to 180°C.

2

Bake the sweet potato whole on a lined baking tray for 1 hour or until soft.

3

To prepare the sauce add onion and garlic to a hot pan with olive oil and cook until soft, approx. 5 minutes.

4

Roughly grate the tomatoes to remove the bulk of the skin; then add the grated flesh (including the liquid!) to the pan, and cook for 15–20 minutes or until thick. Season with salt and pepper. Set aside.

5

Allow the sweet potatoes to cool enough to handle. Slice the potatoes lengthways and scoop out the flesh into a bowl.

6

Add thyme, nutmeg and salt to the potato. Gradually add the flour using your hands to bring it together. The flour quantity may need to be adjusted depending on the amount of sweet potato you've got.

7

Dust a clean work surface with flour. Roll into a long cylinder, cut into 1.5–2cm pieces. Place on a tray until ready to cook.

8

Bring a large pot of salted water to a boil. Add the gnocchi and cook for 5 minutes or until they float to the top.

9

Add olive oil in a large frying pan over medium heat. Add the cooked gnocchi and fry for 3–5 minutes or until they begin to go crispy on the outside.

10

Add the cooked tomato sauce, with a splash of pasta water too if the sauce is too thick.

11

Season with salt and pepper. Top with lemon zest, chives, parsley and a drizzle of olive oil, and enjoy!
Sign up for a week of delicious plant-based recipes
Send me my recipes
Heads up: by signing here you'll get free recipes and updates from VegKit. Privacy policy