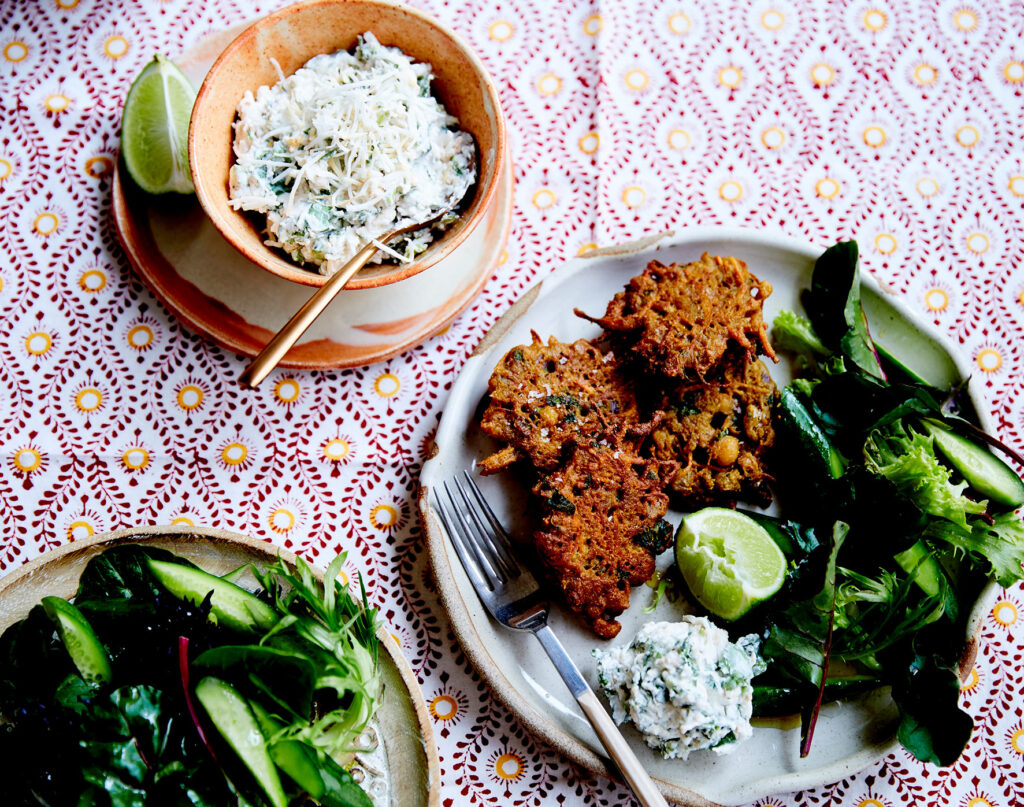 Prep: 25 mins
cook 20 mins
Totally Doable
You will need:
Green Coconut "Chutney"
1 bunch coriander, leaves picked, washed and chopped
⅔ cup coconut yoghurt
1 clove garlic, minced
1 hot green chilli, finely diced
2 teaspoons lemon juice
1 tablespoon toasted shredded coconut
Fritters
1 ½ cups besan flour (chickpea flour)
1 teaspoon cumin
1 teaspoon garam masala
½ teaspoon salt
1 cup water
1 small sweet potato (about 1 ½ cups), grated
½ red onion, thinly sliced
½ cup cooked chickpeas, slightly smashed
1 cup coriander leaves, roughly chopped
1 clove garlic, finely minced
1 small red chilli, finely diced
Peanut or vegetable oil, to fry
Directions:
1

Place the coriander, yoghurt, garlic, chilli and lemon juice in a bowl and combine. Keep chilled and top with toasted shredded coconut just before serving.

2

For the fritters, combine the besan flour, cumin, garam masala and salt; mix together, then add the water and stir to combine. Add the remaining ingredients and set aside for 5-10 minutes to thicken slightly.

3

Meanwhile, pour the oil into a large heavy based pan, about 1 cm deep, and heat.

4

Measure out a large tablespoon of the batter and carefully lower into the hot oil. Add a few more spoonfuls to the pan, taking care to not overcrowd, and shallow fry for 5-6 minutes, until crispy and golden brown. Remove with a slotted spoon onto a cooling rack and season well with salt. Continue until all the batter has been used. Serve immediately while hot with the green coconut chutney.
Sign up for a week of delicious plant-based recipes
Send me my recipes
Heads up: by signing here you'll get free recipes and updates from VegKit. Privacy policy