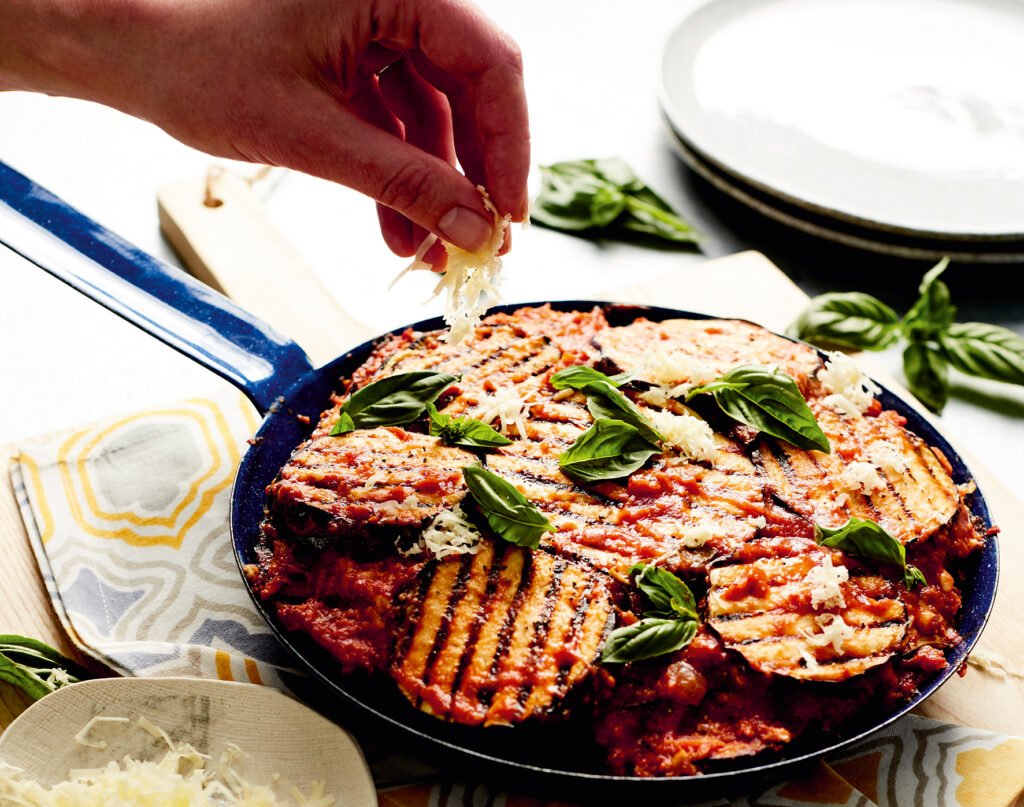 Recipe:
Layered Cheesy Eggplant Bake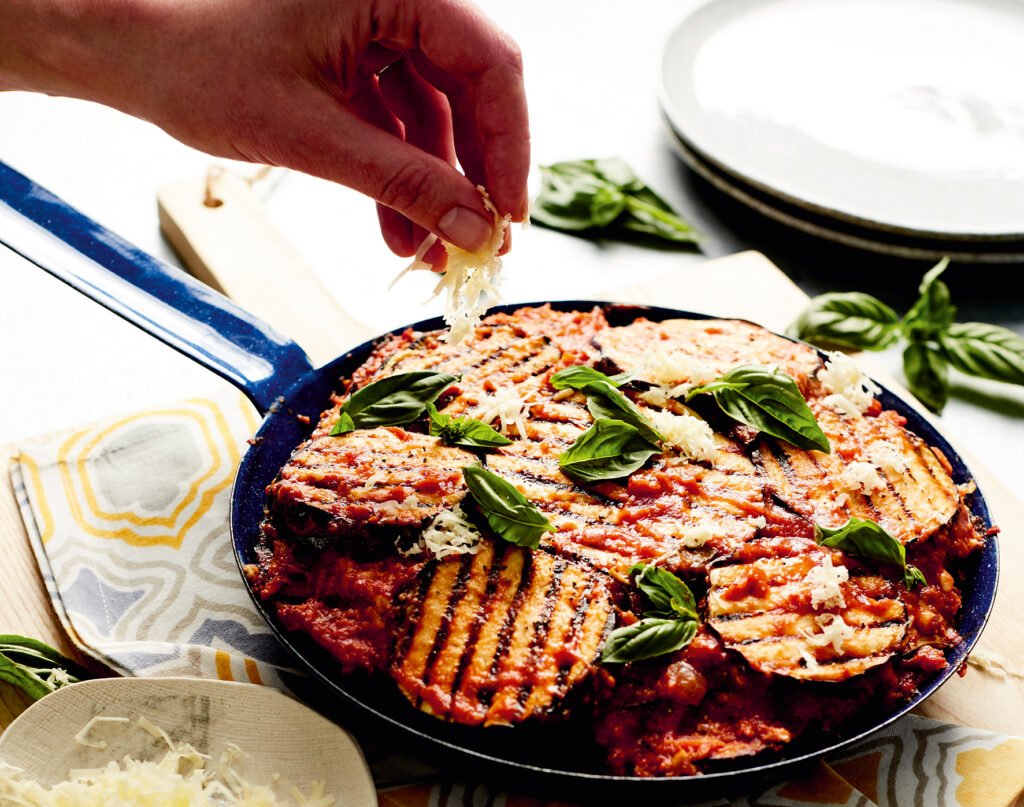 Posted in Mains
Prep: 20 mins
cook 75 mins
Bragging Rights
You will need:
½ cup olive oil
1 large onion, finely chopped
2-3 cloves garlic, crushed
1 teaspoon dried oregano
½ teaspoon dried sage
1 tablespoon tomato paste
Pinch of sugar
2 tablespoons red wine or dry marsala
750 g jar of tomato passata
½-1 cup vegetable stock (or water)
4 medium-sized eggplants (about 700-800 g total)
75-100 g dairy-free cheese, either cut into slices or grated, plus extra to garnish
⅓ cup basil leaves, plus extra to garnish
1 cup panko breadcrumbs (mixed with 1 tablespoon nutritional yeast, optional)
For topping
1 cup panko breadcrumbs
2 tablespoons olive oil
Directions:
1

Warm half the olive oil in a large heavy-based saucepan over medium heat. Add the onion and sauté, stirring occasionally, for 8 minutes, or until golden brown and softened. Add the garlic and dried herbs, and cook for a further 30 seconds, until fragrant. Stir in the tomato paste and sugar. Cook for another minute, until the sugar has dissolved and the tomato paste turns a slightly darker red. Deglaze the pan with the wine or marsala, stirring for about 1 minute to allow the alcohol to evaporate.

2

Stir in the passata. Bring to the boil, stirring constantly, then immediately reduce the heat to low. Cover and leave to simmer for 10 minutes, stirring occasionally so the sauce doesn't stick. Then add the stock and mix well. Remove from heat, season to taste and set aside.

3

While the sauce is simmering, prepare the eggplants. Heat your barbecue to medium-high; alternatively, use a chargrill pan. Trim the ends from each eggplant, then slice lengthways into 1 cm strips, or horizontally into round slices. Lightly brush each side of the eggplant with the remaining olive oil, then grill in batches for about 5 minutes on each side, or until slightly charred and tender enough for a knife to pierce the middle easily.

4

Preheat the oven to 180°C if fan-forced (200°C if conventional). Lightly grease a 25 cm round (or similar) baking dish.

5

Ladle one-quarter of the tomato sauce mixture over the bottom of the dish, then add enough eggplant slices to cover in a single layer. Sprinkle with one-third of the cheese, a few basil leaves and one-third of the breadcrumbs. Continue layering with two more rounds of tomato sauce, eggplant, cheese, basil and breadcrumbs—making sure you finish it off with tomato sauce!

6

Sprinkle with the topping breadcrumbs to create a crust. Drizzle with the olive oil and pop the whole thing in the oven.

7

Bake for 25-30 minutes, until the breadcrumb crust is lightly golden. Remove from the oven and leave to stand for a few minutes to let the layers fuse; it will be molten hot!

8

Use a very sharp knife to cut the eggplant bake into wedges. Garnish with extra cheese and basil leaves and tuck in.
Sign up for a week of delicious plant-based recipes
Send me my recipes
Heads up: by signing here you'll get free recipes and updates from VegKit. Privacy policy