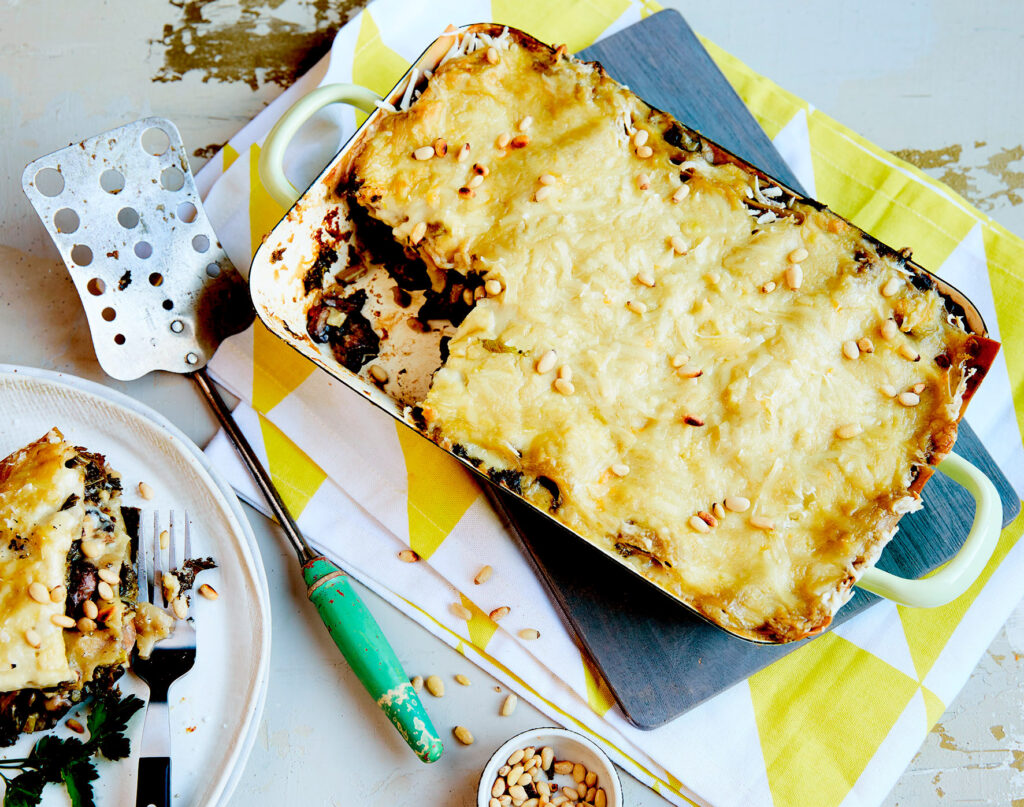 Recipe:
Mushroom & Kale Lasagne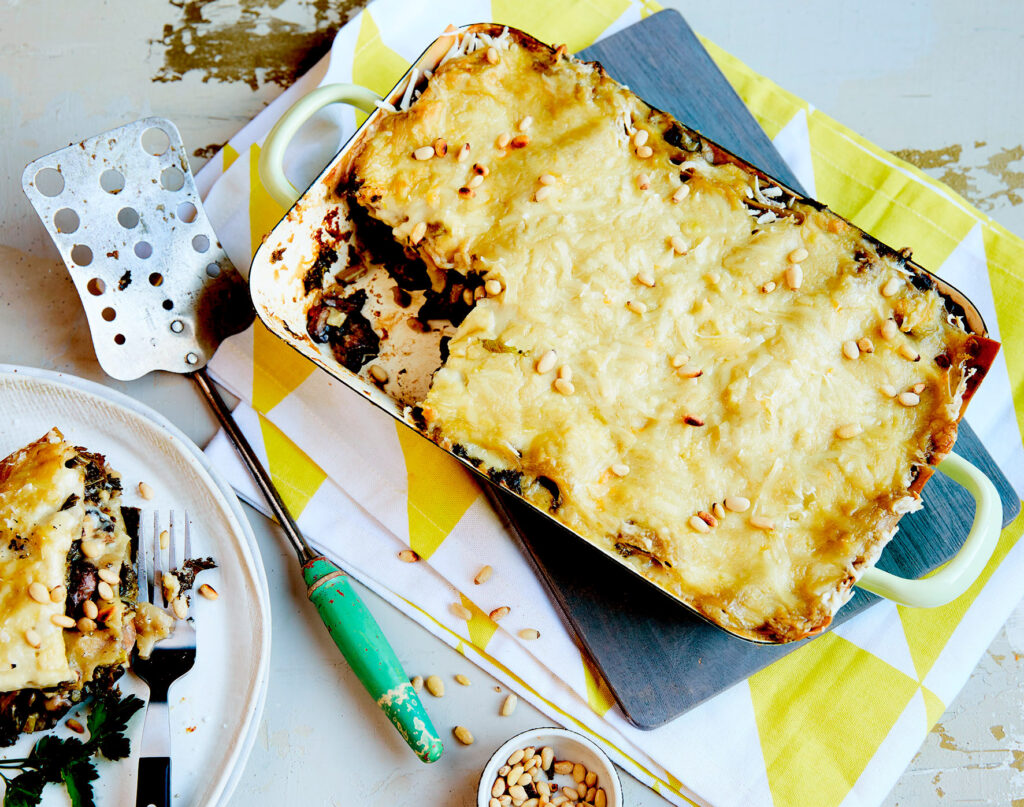 Posted in Mains
Prep: 30 mins
cook 75 mins
Totally Doable
You will need:
3 teaspoons extra-virgin olive oil
2 cloves garlic
600 g mushrooms (button, Swiss brown or field), sliced
Bunch kale, stalks removed and finely chopped (equivalent to 4 tightly packed cups)
½ cup pine nuts, toasted, plus extra to serve
1 teaspoon lemon rind
200 g packet vegan instant lasagne sheets
1 cup vegan cheese, grated (optional)
Béchamel sauce
⅓ cup extra virgin olive oil
⅔ cup (100 g) plain flour
3 cups unsweetened almond milk
1 cup vegetable stock
½ teaspoon salt
¼ cup nutritional yeast
Pinch of cayenne pepper
Pinch of freshly grated nutmeg
Directions:
1

Preheat oven to 180°C, if fan-forced (200°C conventional).

2

Heat half the oil in a large frying pan over medium heat. Add garlic and mushrooms and cook for 4-5 minutes or until mushrooms are very soft. Strain through a sieve or colander into a bowl and reserve liquid.

3

Heat remaining oil in frying pan and cook kale for 2-3 minutes or until wilted, then remove from heat.

4

Mix together mushrooms, kale, pine nuts and lemon rind. Season with salt and pepper.

5

To make béchamel sauce, heat oil in a large saucepan. Add flour and stir into a smooth paste. Cook for 1 minute. Add almond milk and stock gradually and simmer until thickened. Stir through salt, nutritional yeast, cayenne pepper and mushroom liquid.

6

Line a 20 x 30 cm greased ovenproof dish with lasagne sheets, top with ⅓ of the mushroom mixture, then top with ¼ of the béchamel sauce. Repeat process twice, then add a final layer of pasta topped with remaining béchamel sauce.

7

Scatter cheese on top if using, cover with foil and bake for 45 mins. Remove foil and cook for a further 10-15 minutes until browned slightly.

8

Cut lasagne into squares and serve.
Sign up for a week of delicious plant-based recipes
Send me my recipes
Heads up: by signing here you'll get free recipes and updates from VegKit. Privacy policy