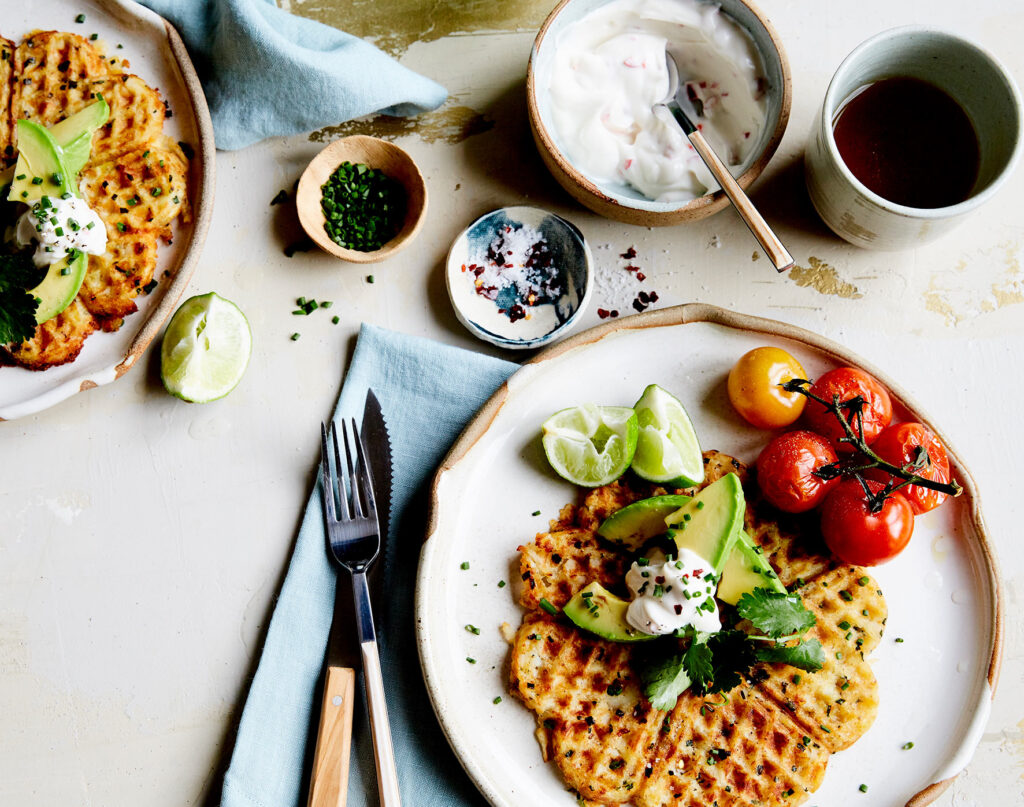 Recipe:
Potato & Chive Waffles with Chilli Sour Cream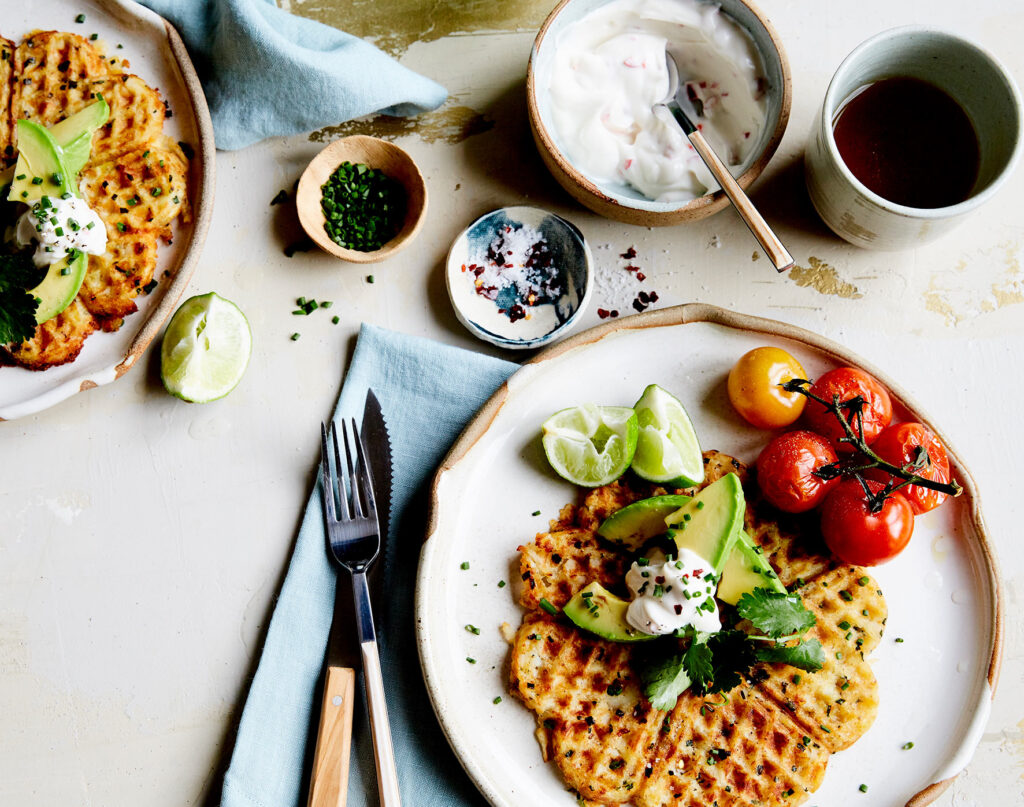 Posted in Breakfasts
Prep: 25 mins
cook 30 mins
Totally Doable
You will need:
½ cup vegan sour cream
½ teaspoon chilli powder
1 small fresh chilli, diced
4 small trusses cherry tomatoes
1 kilo potatoes, peeled
¼ cup chives, finely chopped
2 tablespoons olive oil
½ teaspoon smoked paprika
Sea salt & cracked black pepper, to season
Olive oil spray
1 avocado, sliced, to serve
Extra chopped chives, to serve
Directions:
1

Combine the sour cream, chilli powder and diced chilli, and refrigerate until ready to serve.

2

Preheat oven to 200°C. Place the tomatoes on a parchment paper lined baking tray, drizzle with 1 tablespoon of oil and season with salt & pepper. Bake the tomatoes for 10-15 minutes (depending on their size), until the skin starts to burst.

3

Meanwhile, for the waffles, place the potatoes in a pan of cold water, over high heat. Bring to a boil and cook for 2 minutes, then reduce heat to a rapid simmer and cook for a further 10 minutes. Remove them from heat, drain and let cool for 5 minutes.

4

Grate the potatoes into a mixing bowl; add the chives, 1 tablespoon of oil, and paprika; and season with salt and pepper.

5

Divide the mixture into 4 portions, and pat them into disc or square shapes. Cook each one in a waffle iron, sprayed with olive oil, for 6-8 minutes until golden brown and crispy. Keep each one warm in a preheated 150°C oven until ready to serve.

6

Place the waffles on plates, top each with a dollop of chilli sour cream, add the avocado and roasted tomatoes, and garnish with extra chopped chives.
Sign up for a week of delicious plant-based recipes
Send me my recipes
Heads up: by signing here you'll get free recipes and updates from VegKit. Privacy policy