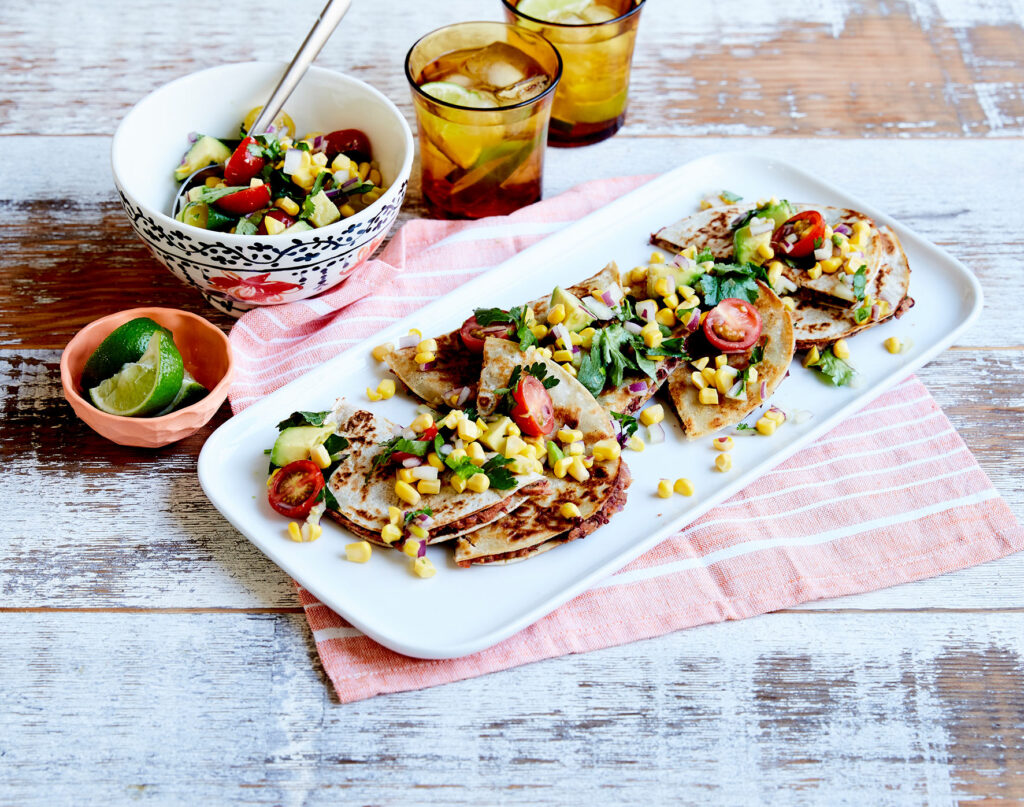 Prep: 15 mins
cook 10 mins
Easy Peasy
You will need:
1 tablespoon extra virgin olive oil
½ red onion, finely chopped
2 cloves garlic, crushed
400 g tin kidney beans, rinsed and drained
1 teaspoon cumin
½ teaspoon chilli paste (consider omitting if cooking for kids)
¼ teaspoon salt
2 tablespoons coriander, finely chopped
1 teaspoon lime juice
¼ cup water
8 mini corn tortillas
Lime wedges, to serve
Salsa
1 corn cob
1 avocado, diced
10 cherry tomatoes, halved
¼ red onion, finely chopped
¼ cup coriander leaves, roughly chopped
Directions:
1

Heat oil in a large frying pan over medium heat. Add onion and garlic and cook for 3-4 minutes or until soft.

2

Add beans, cumin, chilli paste and salt. Fry for 2-3 minutes, then remove from heat.

3

Stir through coriander, lime juice and water and mash mixture well using a fork or potato masher.

4

Spread mixture over 4 tortillas and cover them with remaining 4 tortillas.

5

Fry each quesadilla for 1-2 minutes on each side or until browned.

6

To make salsa, slice kernels off corn cob and place in a microwave safe bowl. Cover and microwave on high for 2 minutes or until cooked. Allow to cool, then gently mix through avocado, cherry tomatoes, onion and coriander.

7

Top each quesadilla with salsa and serve with lime wedges.
Sign up for a week of delicious plant-based recipes
Send me my recipes
Heads up: by signing here you'll get free recipes and updates from VegKit. Privacy policy