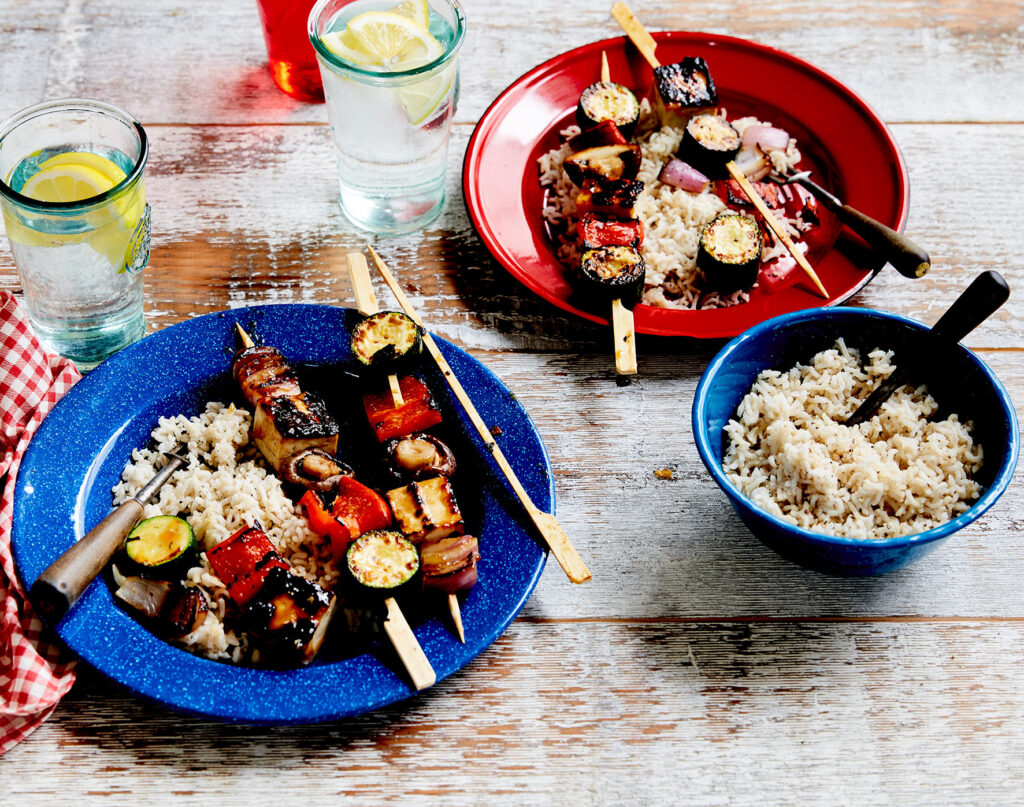 Prep: 15 mins
cook 15 mins
marinate 30 mins
You will need:
350 g firm tofu
125 ml (½ cup) tamari
125 ml (½ cup) pineapple juice
¼ teaspoon ground ginger
2 cloves garlic, minced
1 tablespoon cornflour
1 red capsicum, cut into 2 cm cubes
1 large zucchini, cut into 2 cm wheels
1 large red onion, cut into 2 cm cubes
10 mushrooms, cut in half
10 bamboo skewers
Rice, to serve
Directions:
1

Dice the tofu into 2.5 cm cubes and place into a medium bowl.

2

In a small saucepan mix together tamari, pineapple juice, ginger and garlic. Place over medium heat and cook for 5 minutes.

3

Combine cornflour with 3-4 tablespoons of cold water in a small glass, stirring until smooth. Then pour it into teriyaki sauce and stir until mixture boils and becomes nice and thick.

4

Pour 3-4 tablespoons of teriyaki sauce over the tofu, gently toss and leave to marinate for 30 minutes.

5

Thread the tofu and vegetables in alternating order through skewers. Lay in a shallow dish and coat with remaining teriyaki sauce.

6

Preheat grill or griddle saucepan to high. Coat base with olive oil spray and once hot, place skewers on pan. Cook for 6-8 minutes, turning regularly.

7

Serve alongside rice.
Sign up for a week of delicious plant-based recipes
Send me my recipes
Heads up: by signing here you'll get free recipes and updates from VegKit. Privacy policy