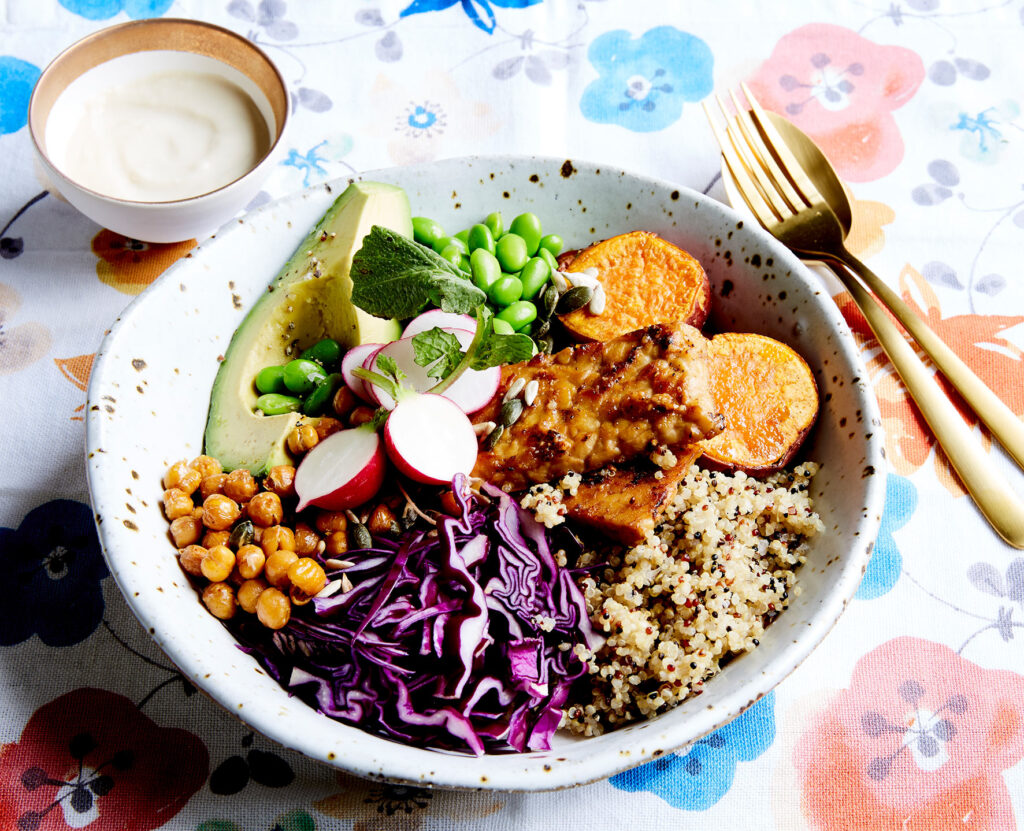 Recipe:
The Soul Bowl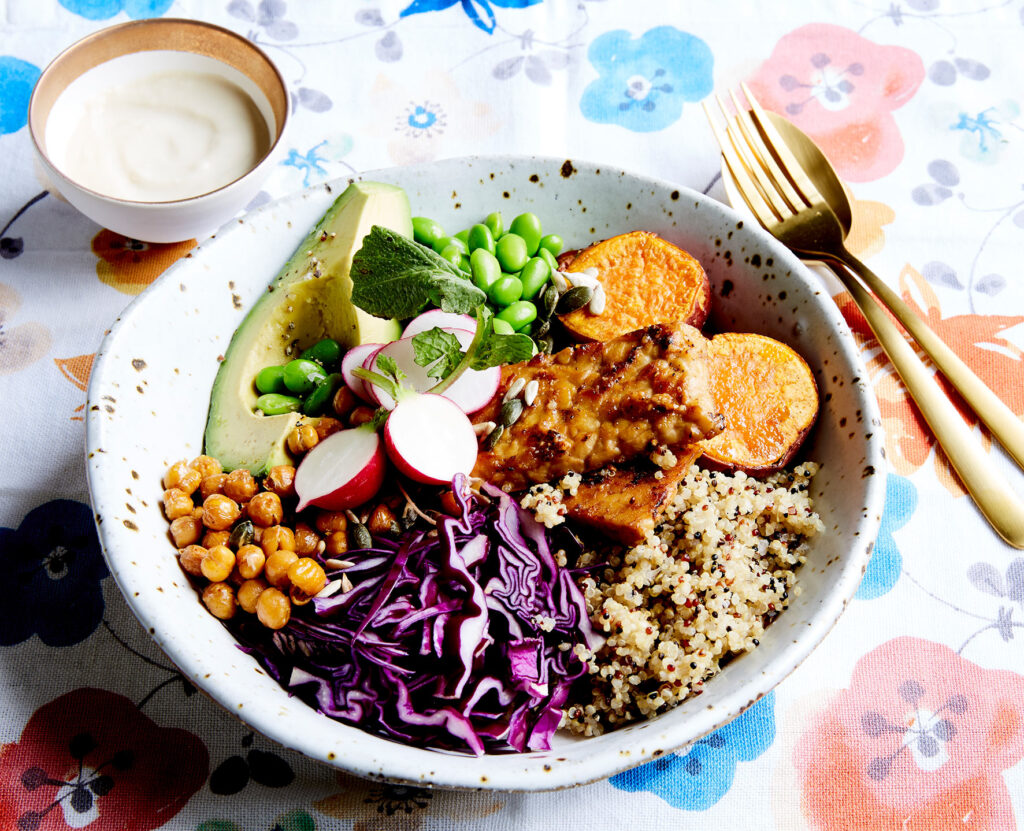 Posted in Mains
Prep: 30 mins
cook 25 mins
Totally Doable
You will need:
2 medium sweet potatoes, sliced into 1 cm thick slices
400 g tin chickpeas, rinsed and drained
Pinch of salt
Pinch of chilli powder
1 cup quinoa
2 cups vegetable stock
1 cup edamame beans
1 avocado, sliced
1 cup red cabbage, finely sliced
2 radishes, finely sliced
2 tablespoons of toasted mixed pumpkin and sunflower seeds
Marinated Tempeh
300 g tempeh, sliced into strips
1 tablespoon peanut butter
1 tablespoon soy sauce
1 tablespoon maple syrup
2 teaspoons water
1 teaspoon sesame oil
Tahini Dressing
¼ cup tahini
1 clove garlic
3 teaspoons lemon juice
¼ cup almond milk
Pinch of salt
Directions:
1

Preheat oven to 200°C if fan-forced (220°C conventional).

2

Spread sweet potatoes and chickpeas over one or two large oven trays. Drizzle with oil and sprinkle with salt and chilli powder. Bake for 20 minutes or until sweet potatoes and chickpeas are lightly browned.

3

Meanwhile, rinse quinoa well and place in a medium sized saucepan. Cover with vegetable stock and boil for 15 minutes or until stock is absorbed and quinoa is soft.

4

To make marinated tempeh, mix peanut butter, soy sauce, maple syrup, water and sesame oil in a small bowl. Pour over tempeh strips and toss to coat.

5

Heat a large frypan over medium heat. Fry tempeh on each side for 2-3 minutes or until well browned.

6

To make tahini dressing, mix all ingredients together in a small bowl.

7

To assemble bowls divide sweet potato, chickpeas, quinoa, edamame beans, avocado, and cabbage between four bowls, placing each ingredient one next to the other. Sprinkle over seeds and drizzle over tahini dressing. Serve.
Sign up for a week of delicious plant-based recipes
Send me my recipes
Heads up: by signing here you'll get free recipes and updates from VegKit. Privacy policy