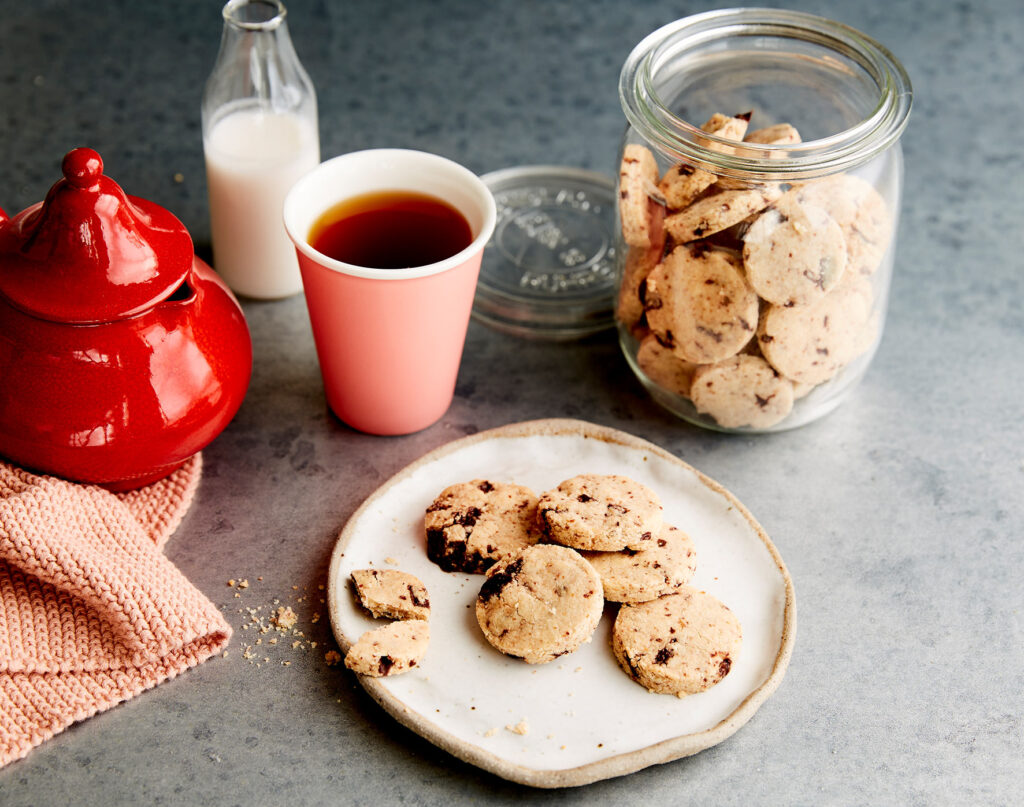 Prep: 10 mins
bake 15 mins
Totally Doable
You will need:
75 g roasted amonds
65 g desiccated coconut
180 g gluten free flour
1 pinch salt
1 pinch ground cinnamon
90 g melted coconut oil
90 g maple syrup
75 g vegan chocolate
Directions:
1

Preheat oven to 140°C.

2

Place roasted almonds, desiccated coconut, flour, salt and cinnamon into a food processor and blitz until a fine crumb forms.

3

Transfer to a bowl and add melted coconut oil and maple syrup. Massage together with your hands and press a clump together to see if it compacts; if it doesn't, add a touch more maple syrup or coconut oil.

4

Roughly chop up vegan chocolate, sprinkle into cookie mix and combine.

5

Scrape dough onto a sheet of baking paper and spread out a little with your fingers. Place another baking sheet on top and use a rolling pin to roll & compact, keeping it at about ½ cm thickness.

6

Use a cookie cutter (around 4 cm diameter) to cut out cookies. Leave for a few minutes to allow the coconut oil to set. Carefully pick them up with a pallet knife and place on the baking tray.

7

Bake for 15 minutes, then allow to cool at room temperature on tray.

8

Enjoy immediately, and store leftovers in an airtight container in the fridge.
Sign up for a week of delicious plant-based recipes
Send me my recipes
Heads up: by signing here you'll get free recipes and updates from VegKit. Privacy policy